---
---
---
About us
Blog
Contact
gallery
search courses
single session
Cell phone: +971 56 56 56 346
Home
About

About Imperial
Guglielmo Marconi University
MBA Program Accreditations

MBA Programs

MBA International Business Management
MBA Health Care Management
MBA Project Management
MBA Finance Management
MBA Marketing Management
MBA Quality Management
MBA Human Resource Management

Event
Blog
Contact
EARN ACCREDITED
& AFFORDABLE
ONLINE MBA DEGREE
Acquire completely accredited online MBA degree from
renowned institution to accomplish your career goals.
GLOBAL RECOGNITION
MBA program by our academic partner university is accredited by recognized global authorities.
FLEXIBLE LEARNING
You can study top quality courses at your own convenience.
AFFORDABLE FEES
we you affordable MBA Degree as you can make payments in installments as per your affordability.
An Accredited Online MBA Program
Imperial School of Management (ISM) has partnered with leading Italian institution, Guglielmo Marconi University. ISM aims to provide high quality and internationally accredited programs to learners in the Middle East and Africa. These programs are tailored for working professionals making them affordable, flexible MBA programs with a blended mode of learning. Our affordable MBA programs do not in the least bit compromise on quality education and content. ISM's blended mode of delivery gives an option of Online learning, making it the Accredited Italian "Online MBA in UAE".The program is delivered through courses with contents that are essential to businesses today Internationally. We have highly competent faculty members who engage the students in discussions, case studies, videos, simulations, and presentations performed individually or in groups. Real time assistance is provided for learners to help them complete their course on time. The duration for our programs is 12 months making it the leading One Year Italian MBA in Dubai, UAE. Our programs are approved by the Italian Ministry of Education, thus of high quality government approved MBA programs.
Read more
Affordable online MBA Programs

The management of business administration has been one of the courses in the industry that has the great demand to cater too. In the past being the availability of the best education through offline the students need to travel for extended hours from one place to another. And at times due to culture differences, there have been important issues mounting between the students studying at a location. Since the time the online education has leaped knocking the doorstep at most of the households, it has become one of the real courses to opt. The online MBA is found to be way more affordable as compared to the regular one.
Read more
Why Choose Our MBA programs?

MBA program in modern world is an essential tool for both the employers and employees. We have the most preferred MBA program in UAE, with a relative competitive advantage in the Middle East and Africa. This is also attributed to the dynamic modes of delivery. With our online accredited one-year MBA, we have enabled professionals in the Middle East and Africa advance in learning. It has become a flexible and full time MBA with concentrations in six relevant career fields. ISM ensures this flexibility through modes of study, course delivery and payments.
Read more
GMU UNIVERSITY
Marconi University is a world-class university engaged in significant international research and innovation. A commitment to excellence and quality inspires our programs
See more
VIRTUAL CAMPUS
Virtual [email protected] is a flexible virtual learning centre able to support and reproduce online the entire spectrum of possible teaching and learning activities to meet the specific user's needs.
ACCREDITATION
The First Italian University to be Accredited in Italy by the Italian Ministry of Education and by the Greek Ministry of Education. Marconi University is a Dual Accredited University from Europe and USA.
See more
MBA Concentrations
Location: Middle East & Africa
Finance Management
The Financial Management program, typically, prepares graduates for careers in financial management, investment banking, and investment management. The core curriculum is thus focused
Health Care Management
Master of Business Administration in Healthcare Management is designed to prepare students to oversee operations and services in healthcare facilities. MBA students
HR Management
The first definition of HRM is that it is the process of managing people in organizations in a structured and thorough manner.HR is a product of the human relations movement
Project Management
Project management is an essential skill-set for many careers and in many contexts in our lives.Introduction to Project Management is an ideal starting point if you need to manage projects
Blog & Videos
United in Spirit
Quick Enquiry
Imperial School of Management
ISM believes in networking skills and exchange of ideas of like-minded individuals. We offers opportunities for students and alumni to interact with industry leaders during seminars and conferences.
MBA Programs
MBA International Business Management
MBA Health Care Management
MBA Project Management
MBA Human Resource Management
View More
Terms – Privacy Policy & Safety  VAT © 2018 All Rights Reserved Imperial School of Management
Skip to main content

Top Ranking Executive MBA program at UOWD
Top Ranking Executive MBA program at UOWD
Home
Programs & Courses
Postgraduate Programs
Business and Management
Executive Master of Business Administration (EMBA)
Executive Master of Business Administration (EMBA)
The Executive Master of Business Administration program is designed for high-potential, motivated professionals operating at senior level in government and industry, who are looking to advance their career trajectory and reach their leadership potential.
Based on the top-ranking course designed and delivered by Sydney Business School, the Executive MBA is a unique program that will significantly enhance your professional potential. If you have more than five years experience in senior management and a strong motivation to succeed, the Executive MBA will provide you with the knowledge and skills to deliver practical, applicable solutions to real-world commercial challenges, based upon a business lifecycle approach.
Term starts
18 October 2018
Tuition Fees
AED 183,750
USD 50,068
(VAT 5% inclusive)
As an industry leader you will need to have a solid understanding of the global business landscape and the Executive MBA program gives you the opportunity to gain valuable international exposure. As part of the program you will undertake a component of your learning based in one of several international business hubs.
Our Executive MBA is a challenging, high-demand program and therefore operates a comprehensive, highly selective admissions process. Please review the program selection criteria for more information.
Career Opportunities
Having already established yourself as a skilled manager, the Executive MBA will help you to advance your career to the next level; to be among the next generation of transformational leaders in your professional field. The program will help you to obtain and fulfil challenging leadership and decision-making roles at senior executive levels in the government or private sector.
Globally accredited, internationally relevant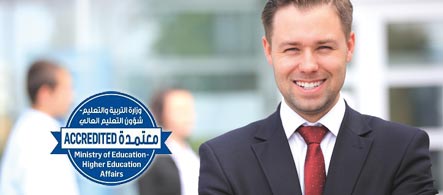 This program is accredited by the UAE Ministry of Education – Higher Education Affairs and is fully recognised within the UAE, GCC and internationally for further education and employment in the private and public sectors. It is quality assured by UOW Australia, which is registered with the  Tertiary Education Quality and Standards Agency (TEQSA) , the national regulator of higher education in Australia.
Based upon the curriculum of Sydney Business School – the graduate school of the Faculty of Business at the University of Wollongong in Australia – the UOWD Executive MBA can be exchanged for the same certification from UOW Australia, which is positioned in Tier 1 of the global rankings published by the London-based CEO Magazine.
Executive Master of Business Administration Brochure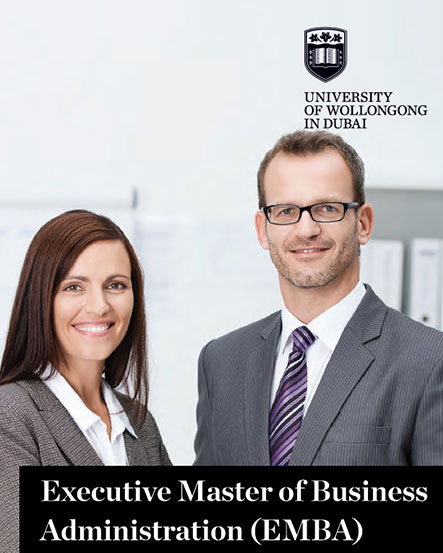 Program Structure
The UOWD Executive Master of Business Administration (EMBA) comprises six class-based subjects and an international study immersion designed to expose students to the global business environment. Each subject is delivered in block mode on weekends with in-class work supported by out of class supervised projects. Recognising that many students may be returning to study after a significant period in industry, participants are further supported by a teaching librarian who provides in-depth instruction relative to the research and structural development needs of individual assigned tasks and presentations. 
What you will learn
The EMBA Program will enable you to hone your strategic thinking, develop your leadership style, strengthen your network and exchange practical insights with fellow executive MBA participants. By leveraging what you learn within the program, you will be able to devise a personalised strategy customised to your organisation which can be implemented when you return to work. Our Professors will introduce you to contemporary tools and techniques that can be practically applied in real work settings providing you with the skills to access the most senior management positions.
The program of study incorporates the following courses:
Leadership in a Contemporary Business Environment
Managing New Business Ventures and Opportunities
Managing Businesses in Growth
Managing Mature Businesses
Managing Businesses for Regeneration or Termination
International Business and Market Analysis
Business Consultancy Report
Meet the Faculty
Program Fees – Payment Information
How Do I Enrol ? – Enrolment Procedures
UOWD Profile