College Admission Home
Articles
Blog
Ask the Experts
How to Write a Great College Application Essay
by Lori Greene
Vice President of Enrollment Management, Butler University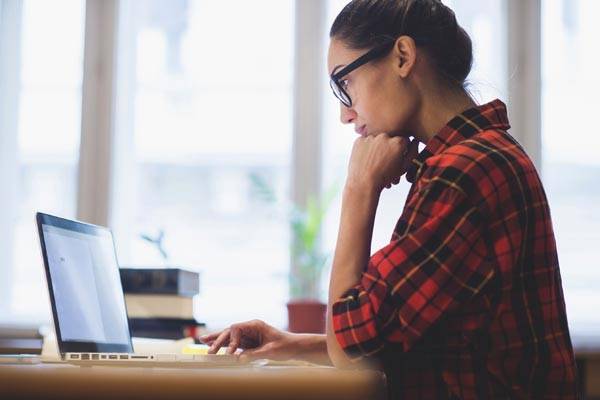 You already know how to write an academic essay: you start with an introduction, throw in a thesis statement, find about three paragraphs' worth of evidence, and wrap it all up with a tidy conclusion…
Now forget all that, because a successful college application essay is totally different.
Here's the thing: your college application essay needs to breathe life into your application. It should capture your genuine personality, explaining who you are beyond a series of grades, test scores, and after-school activities. But that's not nearly as scary as it seems, because you get to choose what to share and how to share it.
Take a minute and think about the college or university admission officers who will be reading your essay. How will your essay convey your background and what makes you unique? If you had the opportunity to stand in front of an admission committee to share a significant story or important information about yourself, what would you say? The college application essay is your chance to share your personality, goals, influences, challenges, triumphs, life experiences, or lessons learned. Not to mention why you're a good fit for the college or university—and why it's a good fit for you. These are the stories behind the list of activities and leadership roles on your application.
One of the most common struggles students encounter is resisting the urge to squeeze everything they've seen, done, and heard into their essay. But your application essay isn't your life story in 650 words. Instead, pick one moment in time and focus on telling the story behind it.
Admission officers realize that writing doesn't come easily to everyone, but with some time and planning, anyone can write a college application essay that stands out. One way to do that is to work step-by-step, piece-by-piece. The end result should be a carefully designed, insightful essay that makes you proud. Take advantage of being able to share something with an audience who knows nothing about you and is excited to learn what you have to offer. Brag. Write the story no one else can tell.
1. Get to know your prompt
Ease yourself into the essay-writing process. Take time to understand the question or prompt being asked.
The single most important part of your essay preparation may be simply making sure you truly understand the question or essay prompt. When you are finished writing, you need to make sure that your essay still adheres to the prompt.
College essay questions often suggest one or two main ideas or topics of focus. These can vary from personal to trivial, but all seek to challenge you and spark your creativity and insight.
Read the essay questions and/or prompts. Read them again. Then, read them one more time.
Take some time to think about what is being asked and let it really sink in before you let the ideas flow.
Before you can even start brainstorming, define what it is you're trying to accomplish. Is this essay prompt asking you to inform? Defend? Support? Expand upon?
If it doesn't already, relate the question back yourself by asking, "How does this—or how could this—apply to me?"
Avoid sorting through your existing English class essays to see if the topics fit the bill. These pieces rarely showcase who you are as an applicant.
2. Brainstorm
Get your creative juices flowing by brainstorming all the possible ideas you can think of to address your college essay question.
Believe it or not, the brainstorming stage may be more tedious than writing the actual application essay. The purpose is to flesh out all of your possible ideas so when you begin writing, you know and understand where you are going with the topic.
Reflect. You have years to draw from, so set aside time to mentally collect relevant experiences or events that serve as strong, specific examples. This is also time for self-reflection. "What are my strengths?" "How would my friends describe me?" "What sets me apart from other applicants?"
Write any and all ideas down. There's no technique that works best, but you'll be thankful when you are able to come back to ideas you otherwise might have forgotten.
Narrow down the options. Choose three concepts you think fit the college application essay prompt best and weigh the potential of each. Which idea can you develop further and not lose the reader? Which captures more of who you really are?
Choose your story to tell. From the thoughts you've narrowed down, pick one. You should have enough supporting details to rely on this as an excellent demonstration of your abilities, achievements, perseverance, or beliefs.
3. Create an outline
Map out what you're going to write by making an outline.
Architects use a blue print. A webpage is comprised of code. Cooks rely on recipes. What do they have in common? They have a plan. The rules for writing a good essay are no different. After you brainstorm, you'll know what you want to say, but you must decide how you're going to say it. Create an outline that breaks down the essay into sections.
All good stories have a beginning, a middle, and an end. Shape your story so that it has an introduction, body, and conclusion. Following this natural progression will make your essay coherent and easy to read.
Strategize. How are you going to open your essay? With an anecdote? A question? Dialogue? Use of humor? Try to identify what the tone of your essay is going to be based on your ideas.
Stick to your writing style and voice. It's particularly important when writing a piece about yourself that you write naturally. Put the words in your own voice. By planning the layout of your essay ahead of time, you'll avoid changing your writing style mid-story.
Related: College Application Essays: A Step-by-Step Example
4. Write the essay
Once you are satisfied with your essay in outline format, begin writing!
By now you know exactly what you will write about and how you want to tell the story. So hop on a computer and get to it. Try to just let yourself bang out a rough draft without going back to change anything. Then go back and revise, revise, revise. Before you know it, you will have told the story you outlined—and reached the necessary word count—and you will be happy you spent all that time preparing!
Keep your essay's focus narrow and personal. Don't lose your reader. Start with your main idea, and follow it from beginning to end.
Be specific. Avoid using clichéd, predictable, or generic phrases by developing your main idea with vivid and detailed facts, events, quotations, examples, and reasons.
Be yourself. Admission officers read plenty of application essays and know the difference between a student's original story and a recycled academic essay, or—worse—a piece written by your mom or dad or even plagiarized. Bring something new to the table, not just what you think they want to hear. Use humor if appropriate.
Be concise. Don't use 50 words if five will do. Try to only include the information that is absolutely necessary.
5. Proofread
The last step is editing and proofreading your finished essay.
You have worked so hard up until this point, and while you might be relieved, remember: your essay is only as good as your editing. A single grammatical error or typo could indicate carelessness—not a trait you want to convey to a college admission officer.
Give yourself some time. Let your essay sit for a while (at least an hour or two) before you proofread it. Approaching the essay with a fresh perspective gives your mind a chance to focus on the actual words, rather than seeing what you think you wrote.
Don't rely solely on the computer spelling and grammar check. Computers cannot detect the context in which you are using words, so be sure to review carefully. Don't abbreviate or use acronyms or slang. They might be fine in a text message, but not in your college essay.
Have another person (or several!) read your essay, whether it's a teacher, guidance counselor, parent, or trusted friend. You know what you meant to say, but is it clear to someone else reading your work? Have these people review your application essay to make sure your message is on target and clear to any audience.
Read your essay backwards. This may sound a bit silly, but when reading in sequential order, your brain has a tendency to piece together missing information, or fill in the blanks, for you. Reading each sentence on its own and backwards can help you realize not only typos and mistakes in grammar, but that you may have forgotten an article here and there, such as "a" or "the."
Read your essay out loud. This forces you to read each word individually and increases your chances of finding
a typo. Reading aloud will also help you ensure your punctuation is correct, and it's often easier to hear awkward sentences than see them.
Check for consistency. Avoid switching back and forth from different tenses. Also, if you refer to a particular college in the essay, make sure it is the correct name and is consistent throughout the piece. You don't want to reference two different schools in the same paper!
6. Tie up loose ends
Celebrate finishing what you started.
Writing the college essay takes time and effort, and you should feel accomplished. When you submit your essay, remember to include your name, contact information, and ID number if your college provided one, especially if you send it to a general admission e-mail account. Nothing is worse than trying to match an application essay with no name (or, worse, an e-mail address such as [email protected]) to a file. Make sure to keep copies of what you sent to which schools and when—and follow up on them! Be certain the college or university you are applying to received your essay. You don't want all that hard work to go to waste!
Looking for more college application essay help? We have tons—tons— here , including lots of real-world examples!
P.S. What did you end up writing your college application essay about? We wanna know! Leave a comment or get in touch here .
Note: Did you know you could win a $10,000 scholarship for college or grad school just by registering on CollegeXpress? This is one of the quickest, easiest scholarships you'll ever apply for. Register Now »
Tags:
admission advice
admission
applications
brainstorming
how to
college essays

$10,000
Are you our next winner?
Register now for our scholarship giveaway
Colleges You May Be Interested In
Seattle Pacific University
Seattle,
WA
Yes, connect me!
See another featured school
University of Delaware
Newark,
DE
Yes, connect me!
See another featured school
Hofstra University
Hempstead Turnpike,
NY
Yes, connect me!
See another featured school
University of Evansville
Evansville,
IN
Yes, connect me!
See another featured school
Manhattan College
Riverdale,
NY
Yes, connect me!
See another featured school
Similar Articles
How to Prepare for College Applications Over the Summer (by Grade Level)
By Rebecca Blyn

The Homeschooler's Guide to the College Application Process
By Karabella Hernandez

How to Write a College Decision Appeal Letter
By Phoebe Bain

The Top College Application Do's and Don'ts
By CollegeXpress

How to Write About Yourself in Your College Essay (Without Bragging)
By Phoebe Bain
Skip to content Skip to site index
Learning
Subscribe Log In
Today's Paper
How to Write a Good College Application Essay
Here are some tips compiled from experts for writing that all-important application essay, which can often mean the difference between getting accepted — or rejected — by the school of your choice.
The essay is your megaphone — your view of the world and your ambitions. It's not just a resume or a regurgitation of everything you've done. It needs to tell a story with passion, using personal, entertaining anecdotes that showcase your character, your interests, your values, your life experiences, your views of the world, your ambitions and even your sense of humor.
Emphasize volunteer work or other ways you've helped people or made your community a better place. It helps if the activity is related to the subject you want to study. For example, Christopher Rim of Command Education Group, which coaches students, remembers that one student who wanted to become a dentist set up a nonprofit and held fund-raisers to distribute toothbrushes, toothpaste and other dental products to homeless shelters. Admissions staff members want to know how your presence will make the college a better place.
Mention internships, summer courses, extracurricular activities or lab work that show steps you've taken to learn and understand your field of interest. That will help show you know the field you've chosen to study and are passionate about it.
Explain with knowledge and passion why you want to study at this particular college rather than at others. Tell why the school's size, curriculum, social atmosphere, location, professors or history influenced your choice.
Correct spelling, grammar and punctuation are critical. Use grammar, syntax and writing with a level of sophistication that shows you're ready for college. Never use text-style abbreviations or rude or profane language.
After the essay is submitted, check your email and voice mail daily to make sure you see and respond promptly to messages from admissions staff members. Many students check only texts and sometimes miss emails asking follow-up questions or requesting an interview.
Hafeez Lakhani of Lakhani Coaching summed up the essay this way: "Every college is like a dinner table. What will make you the most interesting contributor to that dinner table conversation? What will make you help everyone else have a more interesting experience?" A good essay, rich with anecdotes and personality, will answer those questions and stand out from the pile.
A version of this article appears in print on , on Page F 8 of the New York edition with the headline: Essay Writing Tips
. Order Reprints | Today's Paper | Subscribe
Considering College? Maybe You Should Invest in a Coach
The iGen Shift: Colleges Are Changing to Reach the Next Generation
More in Education
Asbestos in a Crayon, Benzene in a Marker: A School Supply Study's Toxic Results
The iGen Shift: Colleges Are Changing to Reach the Next Generation
Colleges and Universities Woo Once-Overlooked Transfer Students
Bonuses of Up to $8,000 to Teach in Struggling New York Schools
Mad Magazine's ABCs of a School Shooting Give It a Boost of Relevance
Trending
Trapped by the 'Walmart of Heroin'
This is 18 Around the World — Through Girls' Eyes
Trump Attacks the Fed as Stocks Fall and the Midterms Loom
Hurricane Michael's Deadly Strike Leaves Florida Panhandle Reeling
Kanye West's White House Rant Steals the Spotlight From Trump
Opinion: Goodbye, Political Spin, Hello Blatant Lies
Opinion: I Loved Kanye West and Hated Taylor Swift. Then 2018 Happened.
Matthew Shepard Will Be Interred at the Washington National Cathedral, 20 Years After His Death
The Prince and the President: Khashoggi Case Raises Saudi-Turkey Tensions
Hurricane Michael: The Damage in Pictures
How To Write — And Not Write — A College Essay

by Brent Benner
Director of Enrollment Management
University of Tampa
People often ask me about the value of the application essay. "You don't actually read all of them, do you?" I assure you, at my university and in admissions offices across the country, we do.
I can tell a lot about a person from his or her application essay; it's the most current snapshot of who you are as a person. Think about it: Most of the items you submit to the colleges or universities you're applying to showcase talents that you have developed over a long period of time. Your high school transcript contains at least three years of grades, showing evidence of hard work in a variety of subjects. Your clubs, organizations, sports, community service, and other accomplishments reflect years of participation and dedication to fields outside the classroom. Even your good old SAT or ACT scores reflect the accumulation of vocabulary, mathematics, and reading comprehension talents acquired throughout your life. The essay, however, is who you are right now. So, why not get started . . . right now?
I'm going to be completely honest with you: Your application essay cannot overshadow years of poor grades and test scores, and in this case, your essay may never find itself in front of the admissions committee. At the same time, you shouldn't downplay the importance of the essay either. Keep in mind essays are a major separating factor in sorting the mediocre students from those who have gone (and most likely will continue to go) above and beyond.
Let's get started
It's time to pick your essay topic. Hi. My name is Brent. What's your name? "[Insert your name here.]" Great! That's exactly who your essay should be about: you. This is your chance to paint a picture of who you are. I can't even tell you how many wonderful application essays I've read about students' mothers, fathers, brothers, grandmothers, neighbors, and even the ice cream truck driver being the most influential person in their lives. Those essays make the other people sound amazing! After reading them, I want to call the students up and encourage their grandmothers to apply! But, after reading these enthralling stories about other people, I still know absolutely nothing about the student who wrote the essay. So, I'll say it again: Please, tell me about you. What are you like beyond your GPA and test scores? What makes you unique? What can you contribute to our campus community?
Now, keep in mind that creativity and a bit of humor are nice. Professionals on admissions committees have the daunting task of reading thousands of application essays per year, and it can get a bit tedious after a while. Don't get me wrong, I love the essay prompts for many colleges, but some essay questions don't exactly push for creativity or thinking outside of the box. For example, "Indicate a person who has had a significant influence on you …" is the essay topic where I hear an awful lot about Grandma, and the "topic of your choice" prompt can go from interesting to ridiculous pretty quickly. That being said, remember to choose an essay topic that helps keep the focus on you but is still flexible enough for you to incorporate your personality, your history, your individuality, and your impact on those around you.
Some college and university applications provide essay questions that influence some pretty good answers. For example, at The University of Tampa, the question, "How do you feel about the month of February?" rarely results in a boring application essay and can go in numerous directions. In fact, many schools have cool, offbeat essay questions that really provide you with the opportunity to present the admissions committee with new insight as to who you are. Take a chance! Get out of your comfort zone! Go out on a limb and take a stab at the question that helps you paint a unique and compelling self-portrait. And if your dream school presents you with some of the old standards, remember to approach the subject from the most unique angle you can.
You've decided on a topic
Great! Now, let's start writing. "In 10th grade, I became a hooker." Yes, this is the actual first line of an application essay we received a few years ago and something I never imagined I would see while reading an admissions essay. Ever. Immediately I was stunned trying to think of the events that must have lead up to this moment and how this student was going to swing this into a positive light. I had to read on. What I didn't know at the time was that a "hooker" was actually the name of a position on a rugby team. The student went on about how he developed the strength and technique needed to be successful in the position and how that experience shaped him into the man he had become. Whether or not it was intentional, this student started his essay in a way that certainly caught the attention of the admissions committee, and that's what your first sentences absolutely need to do.
While it is important to talk yourself up as the awesome student you truly are, you still have to remember that the application essay is not a résumé. You can certainly submit a résumé with your application, but your essay is not the place to do it. We want you to expand upon a few characteristics that make you great, not just give us a list with the thousand and one things that contribute to your greatness. This way, we are able to fully grasp why these particular characteristics, out of the many you could have selected, are so important to you and who you are as an individual. Besides, that other essay would go on forever, and, as I mentioned, we read thousands of these things each year.
On copious occurrences, pupils will endeavor to parade their current acquaintance with the English vernacular in an attempt to affect an air of knowledge. Let's face it, that sounded a little silly, and this is exactly what we go through each time students attempt to replace every other word in their essays with longer words and more complex terms from a thesaurus. My suggestion to you is this: don't. When a student attempts to stuff the essay with large words — words we both know are not a part of his or her everyday vocabulary — it often actually detracts from the piece. Be conscious of your word choice. Use your own voice. Remember, the admissions committee wants to focus on you, and sometimes it is hard to do so when all they are thinking is, "What is this person talking about?!"
In my experience, students love to write about how they have learned from their mistakes. They will go on and on about the time they did this illegal thing and broke the law, but it's OK, because they learned from their mistake. The application process is competitive, and there are plenty of good applicants out there who have never broken the law. You are not required to incriminate yourself in your application essay, nor should you. This might be your only chance to show the admissions committee that you are more than just a GPA, test scores, and a bunch of extracurricular activities, so it may be best not to ruin their first impression of you with your past criminal history.
Sometimes the admissions committee will make a decision on whether or not to admit you to their college or university immediately after evaluating your application, and other times, they may hold on to your file for months before making their final decision. You need to end your application essay just as strongly as you began, so the committee remembers you when it comes time to make their final decision. When there are only a few spots left in the class, you want to be the one they choose. If your essay is forgettable, well, you might be too.
And, pencils down.
You're done, right?
Wrong. Once you have completed your application essay, be sure to find a couple of people you trust to look over your work before you submit it. I don't recommend a friend who is afraid to correct your mistakes, or a parent, if you can help it. A teacher or family friend would be a great choice. Since you already know how it's supposed to read, and you're accustomed to reading it, it's often easier for another person to catch your mistakes. You should also try reading the essay aloud to yourself.
Don't rely on spell check alone to catch all of your mistakes, either. We had one applicant that said, "I speak tree languages." (Really? Birch, oak, and what else?) As you can see, sometimes things are spelled correctly but just don't make sense in the context of your application essay. Be sure you are using the correct form of words too (they're, their, there, your, you're, etc.). Few things will throw off an application evaluator more than misspellings and typos in the college essay — except when you mention the wrong college! Don't tell us how much you want to attend XYZ University when you are submitting the essay to The College of ABC.
Remember, in the grand scheme of the college admissions process, the application essay is a unique opportunity — and an opportunity to be unique.
Have more questions? Submit a request
0 Comments
Article is closed for comments.
Related articles
Pro Tips On Writing Your Personal Statement
Revising College Essays
How do I apply to college on the Coalition site?
Which Application Do I Use?
The Benefits of a Liberal Arts Education