Cambridge Strategy Group
Start your own business plan »
Marketing Strategy Business Plan
Page
« Previous Page
Next Page »
Executive Summary
Last year the doors to 898,000 new businesses opened in the United States for the first time. Most of these businesses were created by entrepreneurs who envisioned an opportunity to develop a new product or service, and pursued that vision in search of independence and financial reward. While these visionaries started with solid ideas to form the foundation of their new ventures, most do not have many of the skills necessary to transform their ideas into reality. Additionally, the scarcity of talent in today's market makes it extremely difficult for small business owners to attract and retain those skills.
TARGET MARKET
The Cambridge Strategy Group (CSG), L.L.C. is dedicated to providing marketing and management consulting services to small and emerging businesses looking for opportunities to increase their potential for success. Unlike traditional management consulting firms that focus on analyzing problems for large customers, CSG works exclusively with small business clients to develop concrete, practical, short-term action plans that will start moving their businesses in the right direction. The Cambridge Strategy Group takes advantage of the small business owners' need for marketing and management skills, the scarcity of those skills in the market, and the lack of any major competitor owning the concept of "small business consulting."
MANAGEMENT
The CSG management team brings a broad range of industry experience and training from both energetic small firms and experienced industry leaders.
John B. Gordon, Executive Director: John has worked in marketing, business development, and corporate strategy for a number of small and large firms, including EMC Corporation, IBM Corporation, and Larscom, Incorporated. John's participation on the North Carolina Council for Entrepreneurial Development, plus his experience providing consulting services to small businesses, catalyzed the formation of the Cambridge Strategy Group.
Todd D. Kuczaj, Managing Director: Todd has worked in Internet consulting, Web design/development, financial services, and media publications for a variety of companies, including a Big Five consulting firm, Integrated Information Systems Inc., SunAmerica Securities Inc., and the Foothills Sentinel. Todd currently functions as an experienced analyst for a Big Five consulting firm, working with Fortune 100 and Fortune e-50 firms to solve their business and technology issues.
Ben S. Cordell, Managing Director: Ben has worked in business development, account management, systems engineering, marketing, and product development positions at LifeServ and ONE Co. (formerly DC Systems). Ben currently functions as a corporate strategy specialist at LifeServ, discovering and developing merger, acquisition and strategic partnership opportunities.
FINANCIAL SUMMARY
The market for Cambridge Strategy Group's services is enormous. Initially, the three founding members intend to work part-time on this venture while maintaining full-time positions with other corporations. As we determine how best to enlarge our operations, we will consider expanding the business as defined in our strategy.
Need actual charts?
We recommend using LivePlan as the easiest way to create graphs for your own business plan.
Create your own business plan
1.1 Keys to Success
UNIQUENESS OF SERVICES
The Cambridge Strategy Group is focused specifically on helping small and emerging businesses maximize their potential for success. We combine Blue Chip training with small business experience and local presence. We differentiate ourselves in the following ways:
Focus on small business. We place our best people on small business customers. Our mission is to help small businesses of today become the leading corporations of tomorrow. Cambridge Strategy Group will attempt to own the words "small business" in the minds of our potential clients.


Cost-effective personal interaction with local consultant presence. Personal interaction provides small businesses with a level of comfort not available with remote consultants. There may be many occasions where the small business founders may ask the consultant to simply "stop by," to react to a new development, or to answer a question. While this local presence and personal interaction is highly valued, business owners are often unable to afford the cost associated with bringing consultants to them from other areas.


A diverse network of consultants and alliance partners. Solving the unique problems that face small businesses today demands a wide range of skills and experiences. By relying on a nationally distributed talent base coordinated to work together remotely, Cambridge Strategy Group will be able to bring together the skills required by a particular client without incurring the expense of physically bringing all of the individuals together. In the book, 22 Immutable Laws of Marketing, authors Al Ries and Jack Trout note that being first in the customer's mind is more important than being the overall leader. In the world of small business, this is particularly true. With 898,000 small businesses starting each year, there is a significant opportunity for a consulting firm such as Cambridge Strategy Group to become the "first" consulting firm dedicated exclusively to small businesses in the minds of a number of these potential clients.
1.2 Objectives
The firm has very small capital requirements. Any capital that the firm obtains will be used to promote the "small business focus" of the firm and cover basic operational costs. For the firm to realize its full potential, the founders would require compensation equivalent to full-time employment while pursuing initial clients and creating a backlog of work requests. This would most likely need to cover at least one year's salary for each of the three managers. Additionally, funding for initial marketing projects would help to ensure that the firm could establish a claim to the "small business consulting" concept in the target market. In exchange for the funding, CSG would provide an equity stake to the funding company. Ideally, we would like to work with the funding company to help its other clients succeed.
Page
« Previous Page
Next
Page »
Start your own business plan »
Your business plan can look as polished and professional as this sample plan. It's fast and easy, with LivePlan.
LivePlan is incredibly simple and easy to use. The financial sales forecasting tool is very intuitive and makes writing a business plan more fun.
Helga D. Svala
Start Your Plan
Plan Outline
1.0 Executive Summary

Keys to Success
Objectives

2.0 Company Summary
3.0 Services
4.0 Market Analysis Summary
5.0 Strategy and Implementation Summary
6.0 Management Summary
7.0 Financial Plan
Appendix
Create your own business plan
Business planning has never been easier. With 500 complete sample plans, easy financials, and access anywhere, LivePlan turns your great idea into a great plan for success.
Learn more about LivePlan
Related business plans
Day Spa Business Plan
Personal Event Planning Business Plan
Car Wash Business Plan
More Consulting Plans
More Services Plans
More Marketing and Advertising Plans
We can show you how to organize all your marketing in one place by the end of today (probably right now) 👋
30 Marketing Plan Samples and 7 Free Templates to Build Your Strategy
30+Marketing+Plan+Samples+and+7+Free+Templates+to+Build+Your+Strategy
By

Devin Joubert
Headline Analyzer
The free blog post headline analyzer will score your overall headline quality and rate its ability to result in social shares, increased traffic, and SEO value.
Test every headline before you publish. Try the free Headline Analyzer »
Maybe you have no idea where to start when it comes to creating your marketing plan and don't want to leave out something important. Or you might be refining one you've already created.
If you've done a simple Google search for marketing plan samples for inspiration, you've probably found it difficult. So, we thought you'd appreciate these 30 examples you can follow.
This post is split into two sections. One with a list of marketing plan samples, and another with 12 exercises to help you write an awesome marketing plan step-by-step.
Let's get started.
30 Marketing Plan Samples And Everything You Need To Include In Your Strategy
Click To Tweet
Want to use Click to Tweet on your blog?
Download Your Free Marketing Plan Template Bundle
With your marketing plan bundle, you'll be able to build a complete marketing plan. Plus, you'll get everything you need to plan the strategy and tactics you'll execute to put your plan into action. It includes:
Marketing Plan Outline Template (Word): Document your entire marketing plan using this free outline.
Marketing Strategy Template (Excel): Map out every part of your strategy in one place ( complements this guide ).
Content Marketing Strategy Template (PowerPoint): Plan tactics and channels to make your content marketing a success.
Email Marketing Strategy Template (PowerPoint): Strategize every piece of your email plan before sending your next campaign.
Social Media Strategy Template (PowerPoint): Manage every channel and achieve success with a clear social media roadmap.
Audience Persona Template (Word): Figure out who you're marketing to in the first place.
Marketing Budget Template (Excel): Make sure you stay on budget.
Get Your Free Marketing Plan Kit!
Success! Your download should start shortly.
Tired of the marketing mess?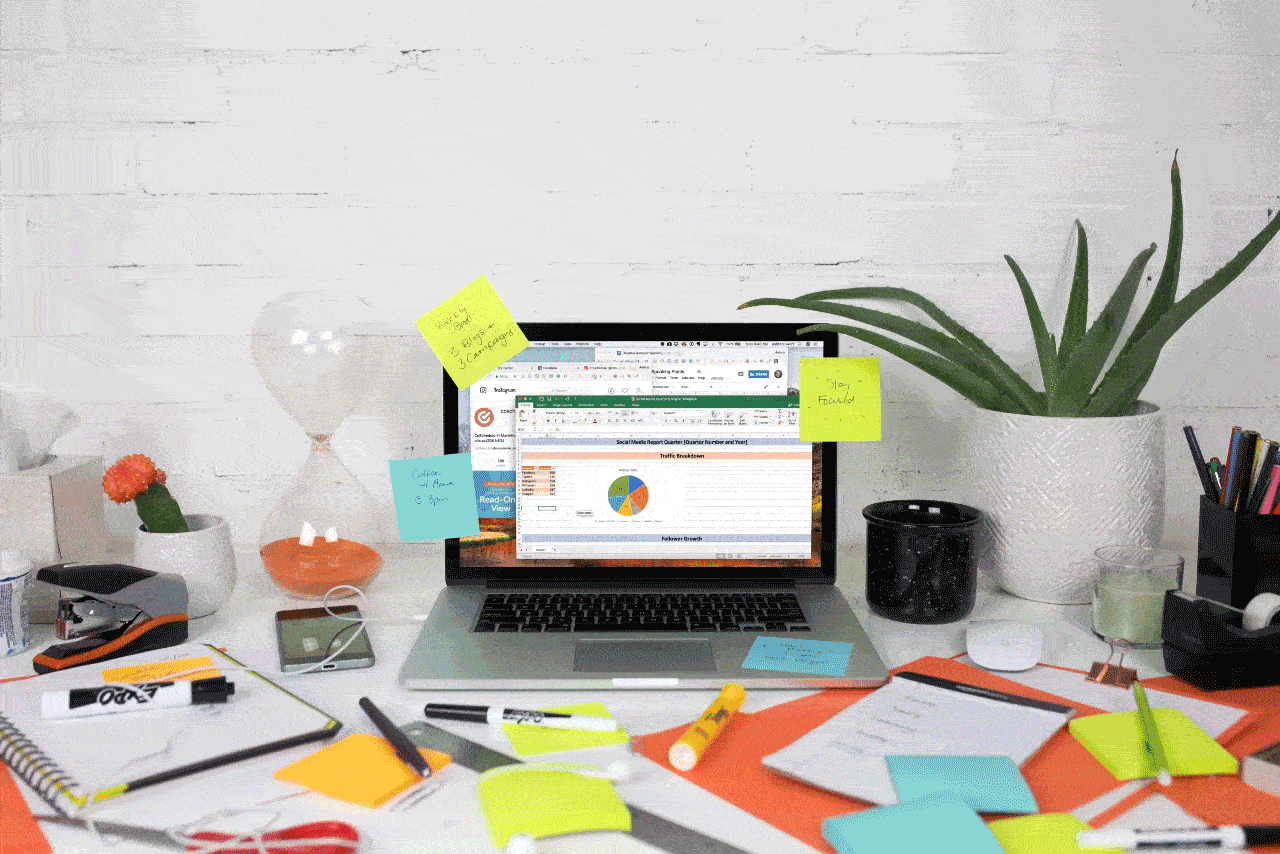 Awesome news! You're invited to a 1-on-1 marketing demo of CoSchedule! In 30 mins or less, you can see how to:
End the frustration of missed deadlines.
Get total visibility into ALL of your marketing in one place.
Save 20 hrs this week alone (and every week after).
If you've ever kicked the tires on CoSchedule, now's the time to see what it's really like.
Success!
We'll be in touch shortly. In the meantime, get started with a FREE 14-day trial!
Tired of the marketing mess?
Success! Your download should start shortly.
Clean up the chaos with your CoSchedule editorial calendar!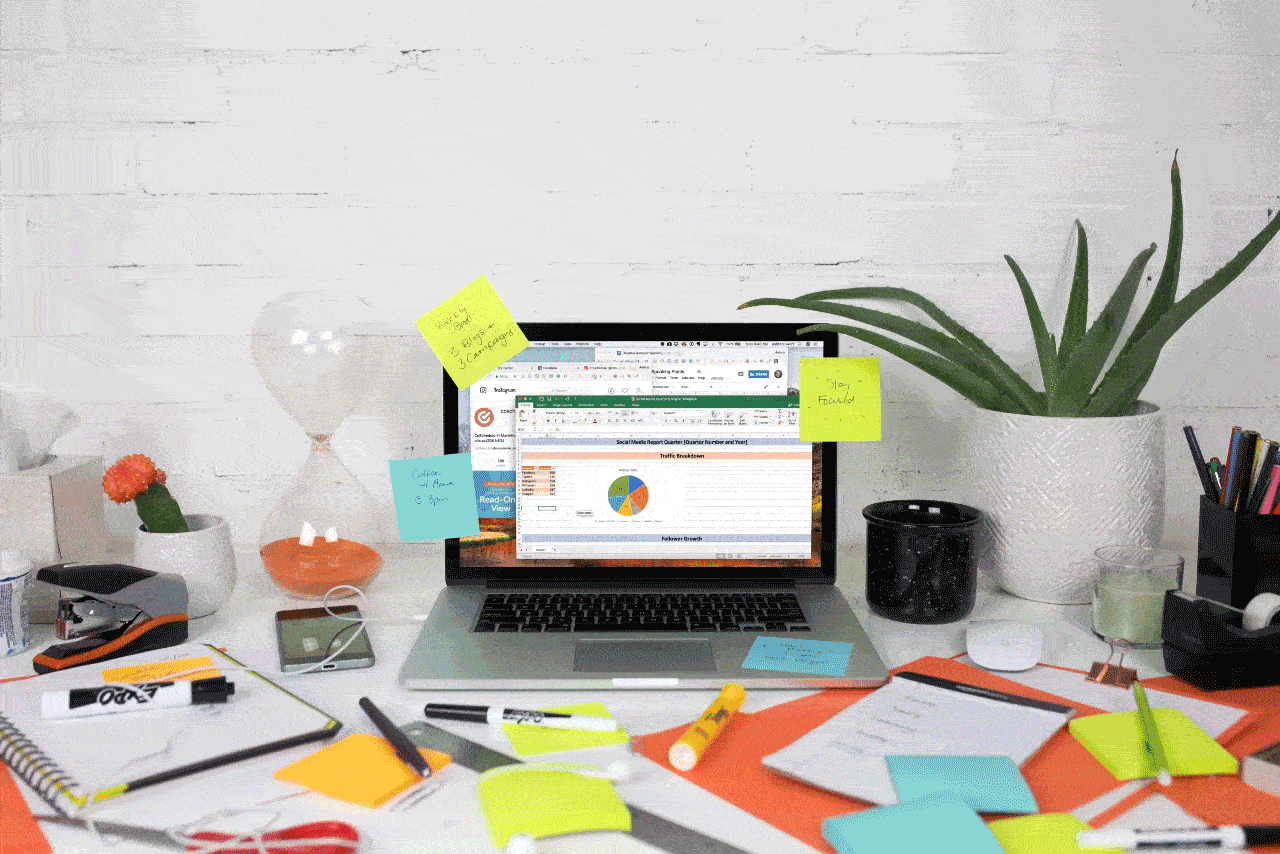 With CoSchedule, you'll:
Save time with blogging, social, and email (think HOURS every week)
Schedule your social posts in batches (and increase your posting frequency) super easily
Get your sh*t together (and hold yourself accountable to publishing like the boss you are!)
Now's the perfect time to start your 14-day free trial to see for yourself!
30 Marketing Plan Samples And Ideas To Make Yours Stand Out
You'll learn tons of tips, ideas, and exercises to create your own marketing plan throughout this blog post. Some of these marketing samples are hypothetical and some are from real companies. Others are just marketing samples. Here are 21 great examples:
Sample Marketing Plan – Houghton Mifflin Company
Marketing Plan Template – Kansas State University
Sample Plan – Palo Alto Software
The Marketing Plan – Massachusetts Small Business Development Center Network
Small Business Marketing Plan Template – ProfitWorks
Marketing Strategy Template – David Meerman Scott
One-Page Content Marketing Plan – UncommonlySocial
Marketing Plan Template – Marketer Gizmo
Nonprofit Marketing Plan Template – Nancy And Kivi
Developing A Marketing Plan Example – Agricultural Extension Service at the University of Tennessee
Marketing Plan Template – The Business Victoria
Marketing Plan Outline – QuickMBA
How to Create a Marketing Strategy That Will Skyrocket Your Results By 9,360% – CoSchedule
Marketing Plan Template – Vital Design
Great Marketing Plan Template – Marketing Donut
Marketing Plan Outline – University of Wisconsin Oshkosh Small Business Development Center
Content Marketing Strategy Template – Buffer
Your Marketing Plan Template – Nishnawbe Aski Development Fund
One-Page Marketing Plan – BisAmmo
A Marketing Plan – Network Jungle
Marketing Plan Template – Forbes
Plan Your Marketing Like a Pro – Business.com
Digital Marketing Plan Example – Smart Insights
Examples of Marketing Strategies for Small Businesses – ThriveHive
Multi-channel Marketing on a $2,000 Budget: A Sample Plan – BusinessTown
5 Brilliant Marketing Strategy Examples From Dominant Brands – LinkDex
Marketing Plan – Royal Bank
How to Build a Go-To Market Plan – Chief Outsiders
A Sample Internet Marketing Plan – NerdyMind
Simplify Your Content Marketing Strategy With a One-Page Plan – Content Marketing Institute
What Does a Marketing Plan Look Like?
At their most basic, they're straight-forward planning docs that are usually formatted in Word. Here's an example for a quick look:
How to Write an Awesome Marketing Plan in 12 Steps
The following twelve exercises will show you how to build each piece of your marketing plan. They are based on just some of the examples linked above.
Click to View Section:
Map Out a Table of Contents
Write an Executive Summary (Includes Template)
Write a Mission Statement
Figure Out Your Goals
Establish Content Standards of Performance
Determine Core Competencies
Do a SWOT Analysis
Connect Your Message to Your Target Market
Create an Audience Persona
The 4 P's and Your Go-to-Market Strategy
Develop an Ongoing Marketing Plan
Understand Your Budget
Exercise #1: Table Of Contents With Numbered Pages To Easily Navigate Through The Plan
Documented marketing plans can end up being lengthy, so having a table of contents will help you and others find their way around your plan.
Add a table of contents to your #marketing plan to help others find their way around it.
Click To Tweet
Want to use Click to Tweet on your blog?
Write a Basic Marketing Plan Outline
At a glance, these are the things that are typically included:
Executive Summary
Mission Statement
Standards Of Performance
Core Competencies
Situation Analysis (SWOT)
Core Buyer Persona
Target Market
The 4 Ps of Marketing
Pricing Strategy
Ongoing Marketing Efforts
Budgeting
And a few cool things that you might want to include in your marketing plan to spruce it up:
Include graphics and graphs (tables, diagrams, and even pictures.)
A one-page marketing plan.
An appendix of complementary research that proves your points.
You can go into as much detail as you'd like with your table of contents. Here is a great example, of a detailed table of contents by the  Palo Alto Software :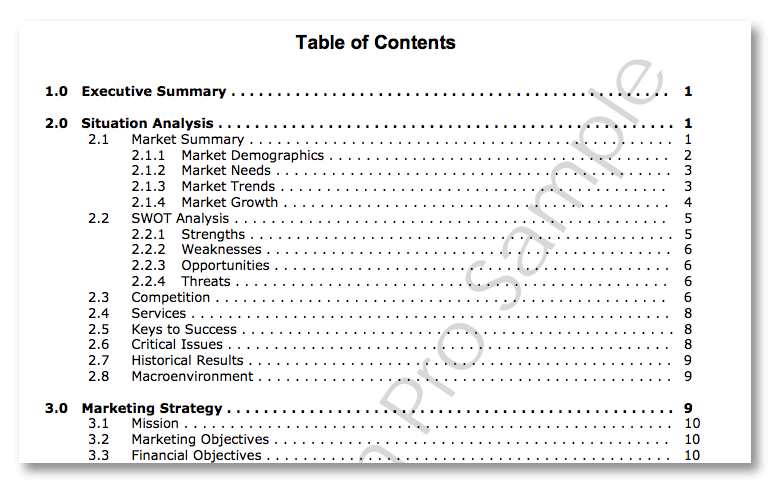 Back to the Top
Exercise #2: Executive Summary To Sell Upper Management On Your Plan
The executive summary provides a high-level overview of your marketing objectives .
Write the executive summary last.
Leave a spot at the beginning of your marketing plan for your executive summary. (Or make things easier, by downloading the complementary marketing plan template in this post.)
Ask yourself these questions as you work on your executive summary:
What types of customers are you targeting?
What patents or products will you market specifically?
What unique partnerships will you leverage to succeed?
How is your marketing plan special?
How will your company stand out?
What problem are you solving?
What is the solution?
Why now?
"Why now?" is one of the most important questions you'll need to answer mainly because it makes your project timely. Make it urgent.
Here's an executive summary template to get you started:
[OUR COMPANY] offers [PRODUCT] to [TARGET CUSTOMER BASE] to help them [ACHIEVE GOAL]. Some of our leading product lines include [PRODUCT], [PRODUCT], and [PRODUCT]. Thanks to our unique position in the marketplace, we're able to easily leverage relationships with [PARTNER] and [PARTNER] to reach our customers.

This marketing plan differentiates our strategy in the marketplace by focusing on [ACTIONABLE TACTICS].

By following this plan, [OUR COMPANY] will stand out amongst our competition by better addressing our customer's core concerns with more creativity and more targeted messaging. By clearly communicating how [PRODUCT] solves [PROBLEM] for [CUSTOMER], [OUR COMPANY] aims to achieve greater success for our organization and [CORE AUDIENCE] alike.

With the release of [NEW PRODUCT/FEATURE] and [DISRUPTIVE TREND FOR YOUR AUDIENCE], now is the time to pivot our strategy toward our best customers' most pressing problems.
Make your project timely by asking yourself "Why now?" #marketing
Click To Tweet
Want to use Click to Tweet on your blog?

Back to the Top
Exercise #3: Write A Mission Statement To Show What Is Most Important To Your Business
Having a mission statement will remind you and your team of what is important. In order to do any of these marketing plan exercises, you'll have to ask yourself a ton of questions. You might have already noticed that.
What do we do?
How do we do it?
Who are we doing it for?
What value does your blog or company bring to the table?
Bring some value to your company and #marketing plan by creating a mission statement.
Click To Tweet
Want to use Click to Tweet on your blog?
Recommended Reading:  The Simple 6-Step Social Media Workflow That Will Get You More Organized
Back to the Top
Exercise #4: Figure Out What Your Goals Are
It's also super important that you state your company's goals (financial and non-financial) so you know where you are headed and how much you can afford for certain things. Blue Sky also provided a great example of their goals.
Figure Out Your Financial Goals
What are your business goals ?
How much do you have to generate from your marketing efforts?
What is your budget?
What are some of the things you'd like to do?
How many sales do you need to reach those goals?
State your company's goals (financial and non-financial) so you know where you are headed.
Click To Tweet
Want to use Click to Tweet on your blog?
Figure Out Your Non-Financial Goals
Writing your goals is one of the first steps to reaching them. First off, you've probably seen blog posts on SMART goals many times before, but they are really good to mention again.
How to make your SMART goals:
Specific: Is your goal clearly defined?
Measurable: Can you track your goal?
Aspirational: Reach for the stars. Push yourself.
Realistic: Are your goals realistic?
Timely: When do you want to reach your goals? And what do you have to do to reach your goals and deadlines?
Now write your goals and add them to your marketing plan.
Back to the Top
Exercise #5: Standards Of Performance To Direct Content Development
When writing your marketing plan, it's important to know what your standards of performance are so you can continue bringing in bigger results or change up your current process to improve your content.
To figure out your standards of performance, make a list of your latest content.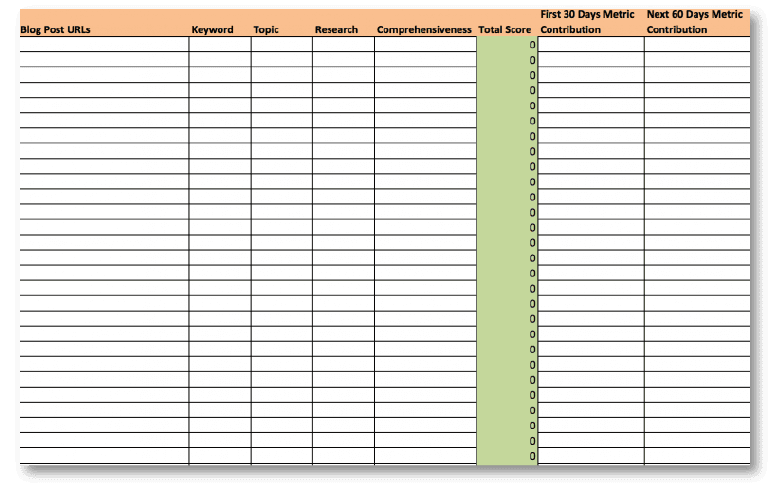 Once you've entered your data into each field, ask yourself:
What are the characteristics of my top-performing content according to my company's goals?
For example, there are four pillars that we make sure to implement in all CoSchedule content:
Is the keyword well-chosen (for search volume and difficulty) and optimized throughout the post to help me get long-term traffic?
Was this topic something my readers would want to learn more about?
Was this post deeply researched to share unique and better information than any other source on the Internet?
Did the post turn the research into comprehensive, how-to advice?
Grade each piece of content against your standards of performance with a scale from 1 to 3. A score of 3 means it's awesome and 1 is not so good.
For more information on figuring out your standards of performance, check out our post on rocking your data-driven content calendar template .
Back to the Top
Exercise #6: Core Competencies To Help You Choose The Right Projects
Remind your company about what they do well, and show them how you plan to stand up against rivals.
If you don't know what your company does well, find out by meeting with your team and discussing it.
Ask yourself unique questions to get yourself thinking about your core competencies in a different light, rather than just wondering what you and your company do well.  David Meerman Scott has a great example  of this.
Get out an Excel spreadsheet and type out the answers to these questions:
What makes you and your company remarkable?
What is the value that you bring?
What proof do we have that you are the best?
Instead Of Planning Another Meeting You Could Also Send Your Team A Google Form
First off, go to Google Forms .
Pick out the kind of Google Form you'd like to send.

Once you click there, it will open to something like this depending on which one you chose: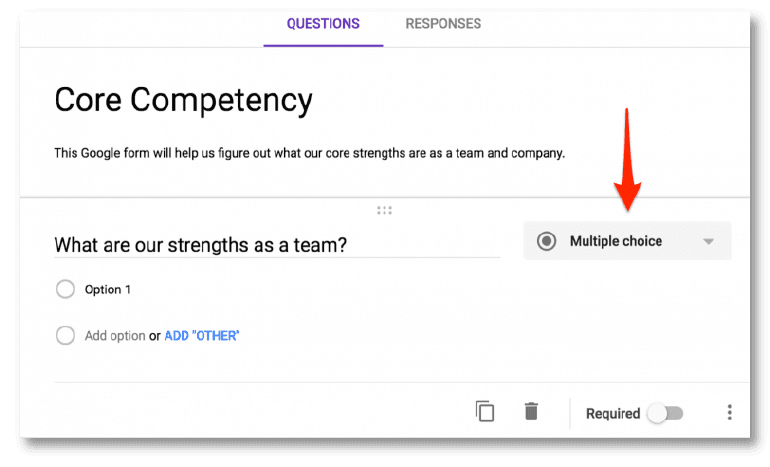 You will be asked to give the Google Form a title and a description. Add your first question and press on the gray bar to the right of the question to change up the type of questions you want to ask.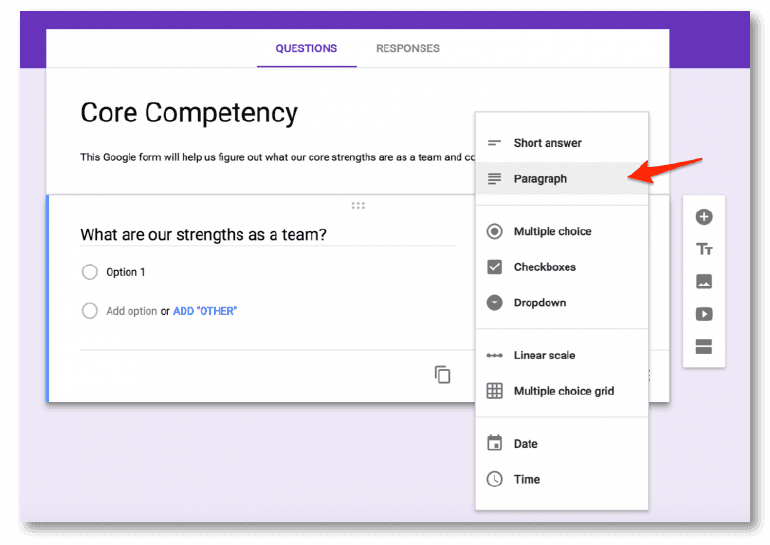 Pick "paragraph" to let your team write as much as they'd like.
Ask these questions:
What are our strengths as a team?
What are our strengths as a company?
What are the strengths of our product?
How can we (are we) be the best in our industry/niche?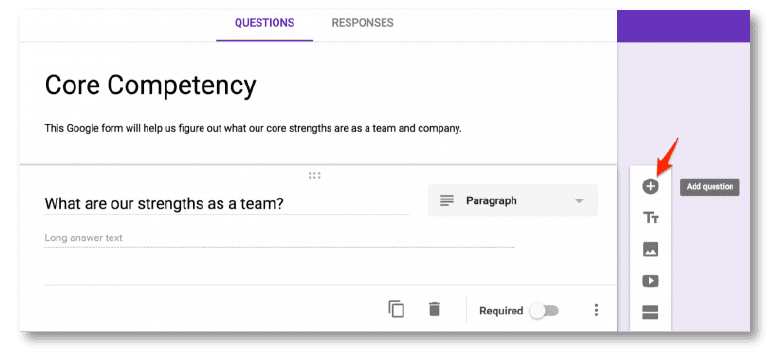 Click on the plus sign to add another question. You can also add pictures or videos here.
Once you are done you can send an email to your team members with the Google Form link. But, before sending the email make sure you read and include the questions from Exercise #7.
Find out what your company's strengths are so you can stand against your rivals.
Click To Tweet
Want to use Click to Tweet on your blog?
Back to the Top
Exercise #7: SWOT Analysis To Understand How You'll Differentiate Yourself
It's important to have your strengths, weaknesses, opportunities, and threats at a glance. Then you can see what you need to improve.
When you meet, discuss these questions as a team:
Strength (internal): What are your company and/or product's strengths?
Weaknesses (internal): How about your company and/or product's weaknesses?
Opportunities (external): What opportunities do you/we have?
Threats (external): What are your/our threats? Who are you/we competing against?
On a few of the different marketing plans I've seen, they put their SWOT quadrant into their appendix section. To see an example, scroll to extra tip #1.
Pro Tip: When you write your SWOT analysis in your marketing plan, go in depth in each of the categories.
These are the things you should include in your SWOT analysis:
Click To Tweet
Want to use Click to Tweet on your blog?
Back to the Top
Exercise #8: Connect Your Message With Your Target Market
You'll need to take a look at your Google Analytics to figure out your target market .
You'll want to find the answers to these questions:
What is the majority of your audience's gender?
How about their age range?
Where are most of them located?
First off, it's super important to know who is currently following you. Read on to find out who your current audience is.
Want To Find Out Who Your Current Audience Is?
Click into  Google Analytics . On the left side, you'll see Audience. Click on it and scroll down to click Demographics and Overview.
For more in-depth information on each of the demographics, you can click Age and Gender.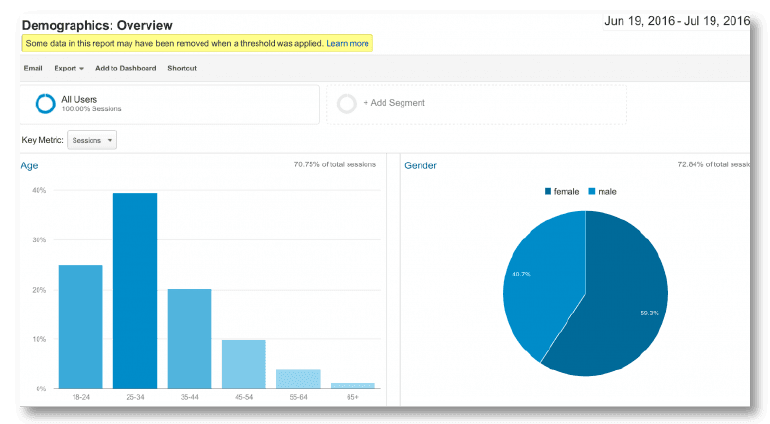 If you click on the Age tab underneath demographics, you'll see a more in-depth graph.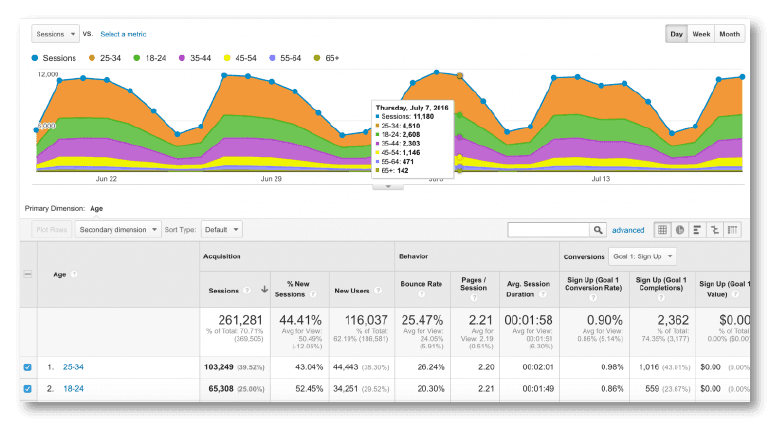 Hover over one of the blue dots to see how many sessions you had and how old each of those people were.
If you click on the "Interests" tab on the left side, you'll be brought to this page, which will show you their interests.
In that same audience section, of Google Analytics, you can click on overview and then you'll see a button underneath demographics that gives you a choice to look at which countries people are tuning in from. Then you'll know their location.
After you know your current audience, it's important to take a look at who you'd like your target audience to be. Here's how:
How To Find Your Target Audience
Ask yourself these questions to figure out who your target audience is:
What are their pain points? (Keep in mind the audience that you want to attract.)
What problem does your company/blog/product solve for them?
Who is your competition?
What will your customers gain from your company/blog/product?
There's so much more on finding your target audience, that we haven't covered yet. It would take a whole post to discuss that.
Fortunately, you're in luck. We have a post on that here .
Back to the Top
Exercise #9: Create An Audience Persona To Help You Know Who You're Writing Content For
Take the information you found in the target audience exercise and ask yourself these questions to figure out who your audience persona is.
Create an audience persona so you can target your content and products more.
Click To Tweet
Want to use Click to Tweet on your blog?
An awesome persona answers these questions:
Who are they?
What is their personality?
How about their family life?
What are their values?
What do they do?
What is their job title?
Where do they work?
Where do they live?
What's their income level?
What are their challenges?
How about their pain points?
What are their needs?
Recommended Reading:  Using Google Analytics To Write Smarter Content
It's easy to forget to ask questions that will really open up the psyche of your persona so you can really pull the emotion into your content and business. Emotion sells.
What scares them?
What are their life beliefs?
What stresses them out?
Favorite books, movies, and music?
What keeps them up at night?
Go in deep when you are figuring out who your user persona is. Then go online to find a picture of them.

Recommended Reading: 3 Hidden Google Analytics Reports To Help You Understand Your Audience
Back to the Top
Exercise #10: Find The Four Marketing Ps To Help You Understand Your Go-To-Market Strategy
In order to do marketing efficiently, you need to keep the four P's of marketing in mind: product, place, price, and promotion.
What Product Are You Marketing? (Product)
Set your user persona and target audience next to you when you fill out these questions:
What is it that our audience wants?
Why do they need it?
What makes it special and different? (Why should your audience care?)
Where Should You Sell Your Product? (Place)
How will you sell your product?
Are you selling it in a physical store or on E-commerce?
How Much Should You Sell It For? (Price)
Is it a good value for what your audience would be getting?
How does the price compare with your competitors and others in the market?
How Are You Going To Promote It? (Promotion)
Where are you going to promote your content/product?
How are you getting it in front of people?
Will you do ads? And if so where will you do them?
Here's a helpful video that is thorough and simple:
To illustrate the whole idea a little better for you let's imagine you're selling some rad shoes with wings that you've created.
Product:
What is it that your audience wants? Awesome shoes that will fly you all over. You know, like the shoes that had wings on them in Greek Mythology? Yes, just like Hermes and his flying shoes.
Why do they need it? It'll cut down on gas prices and also encourage people to get out more.
What makes it special and different? Well, they sorta have wings. I'd say that definitely makes them different.
Place:
How would you sell your product? I'd sell them online (on my website) and in stores.
Price:
Is it a good value for what your audience would be getting? I'd probably charge a lot of money for these shoes because they are definitely a great value for flying shoes. I mean, where else can you find such awesome shoes with wings?
How does the price compare with your competitors and others in the market? Well, I don't have any competitors, so I'd say the price sets the mark for this product.
Promotion:
Where are you going to promote your content/product? On my website, in shoe stores, and also introduce them to the athletes who perform in the Olympics. Who knows, maybe a new sport will be created because of these shoes.
How are you getting it in front of people? I'd send a pair to influencers, artists, and sport stars. I'd also do an awesome job with my branding. The shoe box would be super cool. Shoelaces would be different colors and even some sparkly tissue paper instead of the newspaper colored tissue paper you usually see stuck in the shoes at department stores. My aim would be to make everyone feel like flying superstars.
Will you do ads? And if so, where will you do them? I don't think I'd need to do much advertising once it got out there because I think shoes that allowed you to fly would pretty much sell themselves.
So even though I used a mythological product idea in this example, you get the point. But, man, I'd love to have a pair of those shoes.
Create your 4 Ps for your product and make it jump off the page at your audience.
Back to the Top
Exercise #11: Build An Ongoing Marketing Plan + Checklist
What will be your ongoing marketing plan? What do you want to do? And where do you want to do it? In order to plan your future marketing, you have to know these things.
Set up an ongoing marketing plan for the year. What things will need to be done. I found this great sample example from the Agricultural Development Center at the University of Tennessee . It's so easy to see it all at a glance. You'll know exactly what goals you'll need to hit monthly.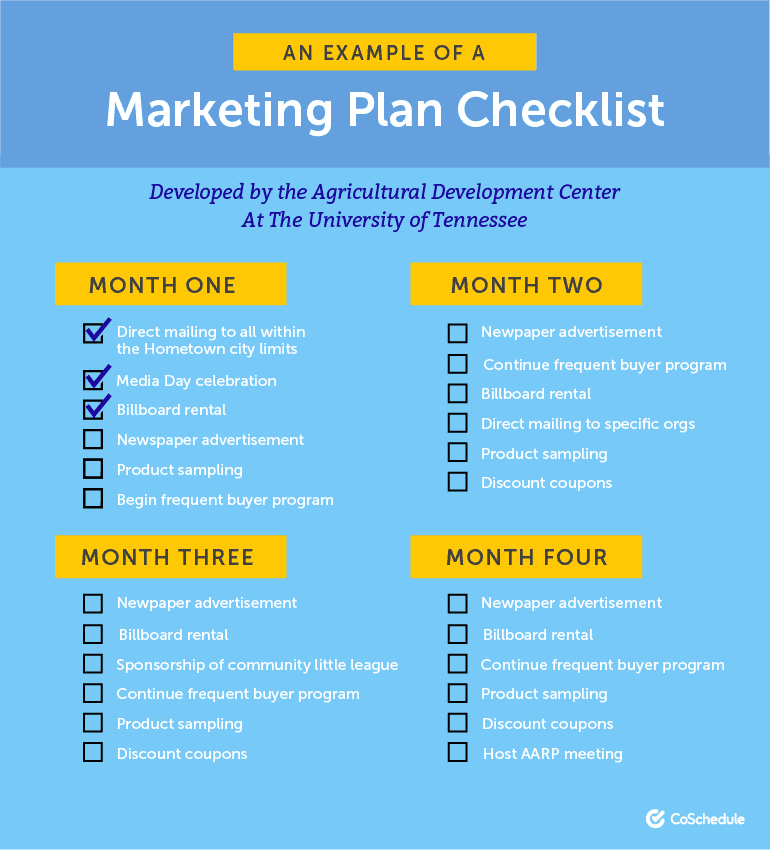 Back to the Top
Exercise #12: Budget To Understand Where You'll Spend Cash And Find Gaps
You need to estimate how much your marketing projects are going to be. You'll be able to put together a budget to keep everyone on track over the course of the year.
Marketing costs and needs vary quite a bit. There is no easy way to figure out what your marketing budget should be. But starting with your needs and wants is a great place to start.
What's important is that you know what your needs and wants are. Answer these questions:
What does your content or business need when it comes to spending on marketing? (This will help you narrow down the most important things that you currently need.)
What does your content or business want when it comes to spending?
How much can you spend monthly?
Next to the needs and wants, write down how much it's going to cost. After doing that for all of your needs, you can start to see how much you can budget for your wants.
Scroll down for a great example of what you could include in your appendix that has to do with budgeting and your financial goals.
Recommended Reading:  How To Do Outstanding Marketing On A Limited Budget
Back to the Top
Bonus Challenge: Can You Fit Your Plan on One Page?
What if a full documented marketing plan feels excessive for your needs? If that's the case for you, try paring it down to the bare essentials. You might even be able to squeeze it down to just one page with the most important information you need to guide your strategy.
In this example, we have a one-page sheet you can glance at to see the most important information from your marketing plan. You might consider following a similar template:
Now You Know What It Takes To Write An Awesome Marketing Plan
Since you have a ton of marketing plan samples—and also the awesome marketing plan download—you're set to be a rock star in the marketing realm.
Just make sure you wear your shoes with the wings.
30 Marketing Plan Samples And Everything You Need To Include In Your Strategy
Click To Tweet
Want to use Click to Tweet on your blog?
This post was originally published on August 15, 2016. It was updated with new information on May 28, 2018.
Don't forget your FREE Marketing Plan Template Bundle
Download Now
Success! Your download should start shortly.
May 21, 2018


Devin Joubert




Devin Joubert (Pronounced: Yo Bear!!) is a Content Marketer. She loves writing, blogging, seeing the world, and finding the magic in everyday life. Follow her adventures here and here !
You'll Also Like…
How to Write the Best About Us Page With 50 Examples and a Free Template

How to Write Amazing Posts With This Awesome Blog Writing Checklist

How to Write the Best Blog Posts That Will Grow Your Influence in 15 Steps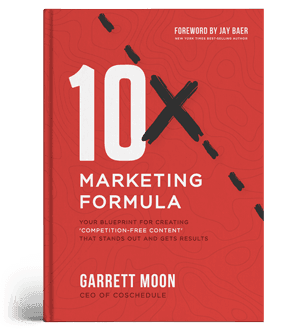 Ready to ditch playing follow the leader and start thinking like a scrappy startup?
"CoSchedule has allowed us to plan and stay ahead 8-12 weeks. It's the best thing we've done to get ahead of ourselves; especially with so many last minute projects popping up."
Lee Hersh, Founder of Fit Foodie Finds
See how these lifestyle experts plan + publish motivational content with CoSchedule
What's CoSchedule?
Try CoSchedule Free
Request A Demo
Free Tools

Headline Analyzer
Email Subject Line Tester
Social Message Optimizer
Resources

RSS Feed
CoSchedule Academy
Actionable Marketing Podcast
Marketing Strategy Guide
State of Marketing Report
Categories

Content Marketing
Social Media
Email Marketing
Project Management
Marketing
Workflow
Analytics
Product Updates
Thought Leadership
© 2018, CoSchedule – Terms of Service , Privacy Policy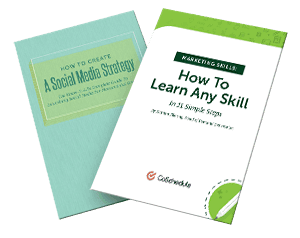 Before you go…
Grab your free marketing calendar template + social strategy e-book bundle. You'll plan + organize easier than ever!
Sign Up!
Join to our newsletter to get the latest
Business Strategy/Marketing Plans and Strategies
From Wikibooks, open books for an open world
Jump to navigation
Jump to search
«
Business Strategy
The Art, Science, and Craft of Decision-Making
Marketing Plans
»
Business Plans
A marketing plan is a written document that details the necessary actions to achieve one or more marketing objectives. It can be for a product or Service (economics)|service, a brand, or a product line. Marketing plans cover between one and five years.
A marketing plan may be part of an overall business plan. Solid marketing strategy is the foundation of a well-written marketing plan. While a marketing plan contains a list of actions, a marketing plan without a sound strategic foundation is of little use.
1

The marketing planning process

2

Marketing planning aims and objectives

2.1

Detailed plans and programs

3

Content of the marketing plan

3.1

Medium-sized and large organizations

4

Measurement of progress

5

Performance analysis

5.1

Sales analysis

5.2

Market share analysis

5.3

Expense analysis

5.4

Financial analysis

5.5

Use of marketing plans

6

Budgets as managerial tools

7

Marketing Strategy

7.1

Key part of the general corporate strategy

7.2

Sectorial tactics and actions

7.3

Types of strategies

7.4

Strategic models

7.5

References
The marketing planning process
[

edit

]
The marketing process model based on the publications of Philip Kotler. It consists of 5 steps, beginning with the market & environment research. After fixing the targets and setting the strategies, they will be realised by the marketing mix in step 4. The last step in the process is the marketing controlling.
In most organizations, "strategic planning" is an annual process, typically covering just the year ahead. Occasionally, a few organizations may look at a practical plan which stretches three or more years ahead.
To be most effective, the plan has to be formalized, usually in written form, as a formal "marketing plan." The essence of the process is that it moves from the general to the specific; from the overall objectives of the organization down to the individual Objective (goal)|action plan for a part of one marketing program. It is also an interactive process, so that the draft output of each stage is checked to see what impact it has on the earlier stages – and is amended.
Marketing planning aims and objectives
[

edit

]
Behind the corporate objectives, which in themselves offer the main context for the marketing plan, will lay the "corporate mission"; which in turn provides the context for these corporate objectives. This "corporate mission" can be thought of as a definition of what the organization is; of what it does: "Our business is …".
This definition should not be too narrow, or it will constrict the development of the organization; a too rigorous concentration on the view that "We are in the business of making meat-scales," as IBM was during the early 1900s, might have limited its subsequent development into other areas. On the other hand, it should not be too wide or it will become meaningless; "We want to make a profit" is not too helpful in developing specific plans.
Abell suggested that the definition should cover three dimensions: "customer groups" to be served, "customer needs" to be served, and "technologies" to be utilized [1] . Thus, the definition of IBM's "corporate mission" in the 1940s might well have been: "We are in the business of handling accounting information [customer need] for the larger US organizations [customer group] by means of Punch card|punched cards [technology]."
Perhaps the most important factor in successful marketing is the "corporate vision." Surprisingly, it is largely neglected by marketing textbooks; although not by the popular exponents of corporate strategy – indeed, it was perhaps the main theme of the book by Peters and Waterman, in the form of their "Superordinate Goals." "In Search of Excellence" said: "Nothing drives progress like the imagination. The idea precedes the deed." [2] If the organization in general, and its chief executive in particular, has a strong vision of where its future lies, then there is a good chance that the organization will achieve a strong position in its markets (and attain that future). This will be not least because its strategies will be consistent; and will be supported by its staff at all levels. In this context, all of IBM's marketing activities were underpinned by its philosophy of "customer service"; a vision originally promoted by the charismatic Watson dynasty.
The emphasis at this stage is on obtaining a complete and accurate picture. In a single organization, however, it is likely that only a few aspects will be sufficiently important to have any significant impact on the marketing plan; but all may need to be reviewed to determine just which "are" the few.

A "traditional" – albeit product-based – format for a "brand reference book" (or, indeed, a "marketing facts book") was suggested by Godley more than three decades ago:
Financial data –Facts for this section will come from management accounting, costing and finance sections.
Product data –From production, research and development.
Sales and distribution data – Sales, packaging, distribution sections.
Advertising, sales promotion, merchandising data – Information from these departments.
Market data and miscellany – From market research, who would in most cases act as a source for this information.
His sources of data, however, assume the resources of a very large organization. In most organizations they would be obtained from a much smaller set of people (and not a few of them would be generated by the marketing manager alone). It is apparent that a marketing audit can be a complex process, but the aim is simple: "it is only to identify those existing (external and internal) factors which will have a significant impact on the future plans of the company."
It is clear that the basic material to be input to the marketing audit should be comprehensive. Accordingly, the best approach is to accumulate this material continuously, as and when it becomes available; since this avoids the otherwise heavy workload involved in collecting it as part of the regular, typically annual, planning process itself – when time is usually at a premium. Even so, the first task of this "annual" process should be to check that the material held in the current "facts
book" or "facts files" actually "is" comprehensive and accurate, and can form a sound basis for the marketing audit itself.
The structure of the facts book will be designed to match the specific needs of the organization, but one simple format – suggested by Malcolm McDonald – may be applicable in many cases. This splits the material into three groups:
"Review of the marketing environment." A study of the organization's markets, customers, competitors and the overall economic, political, cultural and technical environment; covering developing trends, as well as the current situation.
"Review of the detailed marketing activity." A study of the company's marketing mix; in terms of the 7 Ps – (see below)
"Review of the marketing system." A study of the marketing organization, marketing research systems and the current marketing objectives and strategies.
The last of these is too frequently ignored. The marketing system itself needs to be regularly questioned, because the validity of the whole marketing plan is reliant upon the accuracy of the
input from this system, and `garbage in, garbage out' applies with a vengeance.
"Portfolio planning." In addition, the coordinated planning of the individual products and services can contribute towards the balanced portfolio.
"80:20 rule." To achieve the maximum impact, the marketing plan must be clear, concise and simple. It needs to concentrate on the 20 per cent of products or services, and on the 20 per cent of customers, which will account for 80 per cent of the volume and 80 per cent of the profit.
"7 P's": Product, Place, Price and Promotion, Physical Environment, People, Process. The 7 P's can sometimes divert attention from the customer, but the framework they offer can be very useful in building the action plans.
It is only at this stage (of deciding the marketing objectives) that the active part of the marketing planning process begins'.
This next stage in marketing planning is indeed the key to the whole marketing process. The "marketing objectives" state just where the company intends to be; at some specific time in the future. James Quinn succinctly defined objectives in general as: "Goals (or objectives) state 'what' is to be achieved and 'when' results are to be accomplished, but they do not state 'how' the results are to be achieved." [3]
They typically relate to what products (or services) will be where in what markets (and must be realistically based on customer behavior in those markets). They are essentially about the match between those "products" and "markets." Objectives for pricing, distribution, advertising and so on are at a lower level, and should not be confused with marketing objectives. They are part of the marketing strategy needed to achieve marketing objectives.
To be most effective, objectives should be capable of measurement and therefore "quantifiable." This measurement may be in terms of sales volume, money value, market share, percentage penetration of distribution outlets and so on. An example of such a measurable marketing objective might be "to enter the market with product Y and capture 10 per cent of the market by value within one year." As it is quantified it can, within limits, be unequivocally monitored; and Corrective Action|corrective action taken as necessary.
The marketing objectives must usually be based, above all, on the organization's financial objectives; converting these financial measurements into the related marketing measurements.
He went on to explain his view of the role of "policies," with which strategy is most often confused: "Policies are rules or guidelines that express the 'limits' within which action should occur."
Simplifying somewhat, marketing strategies can be seen as the means, or "game plan," by which marketing objectives will be achieved and, in the framework that we have chosen to use, are generally concerned with the 7 P's. Examples are:
Price- The amount of money needed to buy products
Product- The actual product
Promotion (advertising)- Getting the product known
Placement- Where the product is located
People- Represent the business
Physical environment- The ambiance, mood, or tone of the environment
Process- How do people obtain your product
In principle, these strategies describe how the objectives will be achieved. The 7 P's are a useful framework for deciding how the company's resources will be manipulated (strategically) to achieve the objectives. It should be noted, however, that they are not the only framework, and may divert attention from the real issues. The focus of the strategies must be the objectives to be achieved – not the process of planning itself. Only if it fits the needs of these objectives should you choose, as we
have done, to use the framework of the 7 P's.
The strategy statement can take the form of a purely verbal description of the strategic options which have been chosen. Alternatively, and perhaps more positively, it might include a structured list of the major options chosen.
One aspect of strategy which is often overlooked is that of "timing." Exactly when it is the best time for each element of the strategy to be implemented is often critical. Taking the right action at the wrong time can sometimes be almost as bad as taking the wrong action at the right time. Timing is, therefore, an essential part of any plan; and should normally appear as a schedule of planned activities.
Having completed this crucial stage of the planning process, you will need to re-check the feasibility of your objectives and strategies in terms of the market share, sales, costs, profits and so on which these demand in practice. As in the rest of the marketing discipline, you will need to employ judgment, experience, market research or anything else which helps you to look at your conclusions from all possible angles.
Detailed plans and programs
[

edit

]
At this stage, you will need to develop your overall marketing strategies into detailed plans and program. Although these detailed plans may cover each of the 7 P's, the focus will vary, depending upon your organization's specific strategies. A product-oriented company will focus its plans for the 7 P's around each of its products. A market or geographically oriented company will concentrate on each market or geographical area. Each will base its plans upon the detailed needs of its customers, and on the strategies chosen to satisfy these needs.
Again, the most important element is, indeed, that of the detailed plans; which spell out exactly what programs and individual activities will take place over the period of the plan (usually over the next year). Without these specified – and preferably quantified – activities the plan cannot be monitored, even in terms of success in meeting its objectives.
It is these programs and activities which will then constitute the "marketing" of the organization over the period. As a result, these detailed marketing programs are the most important, practical outcome of the whole planning process. These plans should therefore be:
Clear – They should be an unambiguous statement of 'exactly' what is to be done.
Quantified – The predicted outcome of each activity should be, as far as possible, quantified; so that its performance can be monitored.
Focused – The temptation to proliferate activities beyond the numbers which can be realistically controlled should be avoided. The Pareto principle|80:20 Rule applies in this context too.
Realistic – They should be achievable.
Agreed – Those who are to implement them should be committed to them, and agree that they are achievable.
The resulting plans should become a working document which will guide the campaigns taking place throughout the organization over the period of the plan. If the marketing plan is to work, every
exception to it (throughout the year) must be questioned; and the lessons learned, to be incorporated in the next year's planning.
Content of the marketing plan
[

edit

]
A marketing plan for a small business typically includes Small Business Administration Description of competitors, including the level of demand for the product or service and the strengths and weaknesses of competitors
Description of the product or service, including special features
Marketing budget, including the advertising and promotional plan
Description of the business location, including advantages and disadvantages for marketing
Pricing strategy
Market Segmentation
Medium-sized and large organizations
[

edit

]
The main contents of a marketing plan are:[ citation needed ]
Executive Summary
Situational Analysis
Opportunities / Issue Analysis – SWOT Analysis
Objectives
Strategy
Action Programme (the operational marketing plan itself for the period under review)
Financial Forecast
Controls
In detail, a complete marketing plan typically includes:[ citation needed ]
Title page
Executive Summary
Current Situation – environmental scanning|Macroenvironment

economy
legal
government
technology
ecological
sociocultural
supply chain

Current Situation – industry or market research|Market Analysis

market definition
market size
market segmentation
industry structure and strategic groupings
Porter 5 forces analysis
competition and market share
competitor analysis|competitors' strengths and weaknesses
market trends

Current Situation – Consumer Analysis [4]

nature of the buying decision
participants
demographics
psychographics
buyer motivation and expectations
loyalty segments

Current Situation – Internal

company resources

financial
people
time
skills

objectives

mission statement and vision statement
corporate objectives
financial objective
marketing objectives
long term objectives
description of the basic business philosophy

corporate culture

Summary of Situation Analysis

external threats
external opportunities
internal strengths
internal weaknesses
Critical success factors in the industry
our sustainable competitive advantage

Marketing research

information requirements
research methodology
research results

Marketing Strategy – Product management|Product

product line|product mix
product strengths and weaknesses
Product Life Cycle Management|product life cycle management and new product development
brand|Brand name, brand image, and brand equity
the product (business)|augmented product
product Product portfolio|portfolio analysis

B.C.G. Analysis
contribution margin analysis
G.E. Multi Factoral analysis
Quality Function Deployment

Marketing Strategy [5] – Market segment|segmented marketing actions and market share objectives

by product,
by customer segment,
by geographical market,
by distribution channel.

Marketing Strategy – Pricing|Price

pricing objectives
pricing method (e.g.: cost plus, demand based, or competitor indexing)
pricing strategy (e.g.: skimming, or penetration)
discounts and allowances
price elasticity of demand|price elasticity and customer sensitivity
geographical pricing|price zoning
break even analysis at various prices

Marketing Strategy – promotion (marketing)|promotion

promotional goals
Promotional_mix|promotional mix
advertising reach, frequency, flights, theme, and media
sales|sales force requirements, techniques, and management
sales promotion
publicity and public relations
electronic promotion (e.g.: e-marketing|Web, or direct marketing|telephone)
word of mouth marketing (buzz)
viral marketing

Marketing Strategy – Distribution (business)|Distribution

geographical coverage
distribution channels
physical distribution and logistics
electronic distribution

Implementation

personnel requirements

assign responsibilities
give incentives
training on selling methods

financial requirements
management information systems requirements
month-by-month agenda

Program Evaluation and Review Technique|PERT or critical path analysis

monitoring results and benchmarks
adjustment mechanism
contingencies (What if's)

Financial Summary

assumptions
pro-forma monthly income statement
contribution margin analysis
breakeven analysis
Monte Carlo methods in finance|Monte Carlo method
ISI: Internet Strategic Intelligence

Scenarios

Prediction of Future Scenarios
Plan of Action for each Scenario

Appendix

pictures and specifications of the new product
results from research already completed
Measurement of progress
[

edit

]
The final stage of any marketing planning process is to establish targets (or standards) so that progress can be monitored. Accordingly, it is important to put both quantities and timescales into the marketing objectives (for example, to capture 20 per cent by value of the market within two years) and into the corresponding strategies.
Changes in the environment mean that the forecasts often have to be changed. Along with these, the related plans may well also need to be changed. Continuous monitoring of performance, against
predetermined targets, represents a most important aspect of this. However, perhaps even more important is the enforced discipline of a regular formal review. Again, as with forecasts, in many cases the best (most realistic) planning cycle will revolve around a quarterly review. Best of all, at least in terms
of the quantifiable aspects of the plans, if not the wealth of backing detail, is probably a quarterly rolling review – planning one full year ahead each new quarter. Of course, this does absorb more planning resource; but it also ensures that the plans embody the latest information, and – with attention focused on them so regularly – forces both the plans and their implementation to be realistic.
Plans only have validity if they are actually used to control the progress of a company: their success lies in their implementation, not in the writing'.
Performance analysis
[

edit

]
The most important elements of marketing performance, which are normally tracked, are:
Sales analysis
[

edit

]
Most organizations track their sales results; or, in non-profit organizations for example, the number of clients. The more sophisticated track them in terms of 'sales variance' – the deviation from the target figures – which allows a more immediate picture of deviations to become evident.. `Micro-
analysis', which is a nicely pseudo-scientific term for the normal management process of investigating detailed problems, then investigates the individual elements (individual products, sales territories, customers and so on) which are failing to meet targets.
Market share analysis
[

edit

]
Few organizations track market share though it is often an important metric. Though absolute sales might grow in an expanding market, a firm's share of the market can decrease which bodes ill for future sales when the market starts to drop. Where such market share is tracked, there may be a number of aspects which will be followed:
overall market share
segment share – that in the specific, targeted segment
relative share -in relation to the market leaders
annual fluctuation rate of market share
Expense analysis
[

edit

]
The key ratio to watch in this area is usually the `marketing expense to sales ratio'; although this may be broken down into other elements (advertising to sales, sales administration to sales, and so on).
Financial analysis
[

edit

]
The `bottom line' of marketing activities should at least in theory, be the net profit (for all except non-profit organizations, where the comparable emphasis may be on remaining within budgeted costs). There are a number of separate performance figures and key ratios which need to be tracked:
gross contribution<>net profit
gross profit<>return on investment
net contribution<>profit on sales
There can be considerable benefit in comparing these figures with those achieved by other organizations (especially those in the same industry); using, for instance, the figures which can be
obtained (in the UK) from `The Centre for Interfirm Comparison'. The most sophisticated use of this approach, however, is typically by those making use of PIMS (Profit Impact of Management Strategies), initiated by the General Electric Company and then developed by Harvard Business School, but now run by the Strategic Planning Institute.
The above performance analyses concentrate on the quantitative measures which are directly related to short-term performance. But there are a number of indirect measures, essentially tracking customer attitudes, which can also indicate the organization's performance in terms of its longer-term marketing strengths and may accordingly be even more important indicators. Some useful measures are:
market research – including customer panels (which are used to track changes over time)
lost business – the orders which were lost because, for example, the stock was not available or the product did not meet the customer's exact requirements
customer complaints – how many customers complain about the products or services, or the organization itself, and about what
Use of marketing plans
[

edit

]
A formal, written marketing plan is essential; in that it provides an unambiguous reference point for
activities throughout the planning period. However, perhaps the most important benefit of these plans is the planning process itself. This typically offers a unique opportunity, a forum, for information-rich and productively focused discussions between the various managers involved. The plan, together with the associated discussions, then provides an agreed context for their subsequent management activities, even for those not described in the plan itself.
Budgets as managerial tools
[

edit

]
The classic quantification of a marketing plan appears in the form of budgets. Because these are so rigorously quantified, they are particularly important. They should, thus, represent an unequivocal projection of actions and expected results. What is more, they should be capable of being monitored accurately; and, indeed, performance against budget is the main (regular) management review process.
The purpose of a marketing budget is, thus, to pull together all the revenues and costs involved in marketing into one comprehensive document. It is a managerial tool that balances what is needed to be spent against what can be afforded, and helps make choices about priorities. It is then used in
monitoring performance in practice.
The marketing budget is usually the most powerful tool by which you think through the relationship between desired results and available means. Its starting point should be the marketing strategies and plans, which have already been formulated in the marketing plan itself; although, in practice, the two will run in parallel and will interact. At the very least, the rigorous, highly quantified, budgets may cause a rethink of some of the more optimistic elements of the plans.
Marketing Strategy
[

edit

]
A marketing strategy [6] [7] is a process that can allow an organization to concentrate its limited resources on the greatest opportunities to increase sales and achieve a sustainable competitive advantage [8] . A marketing strategy should be centered around the key concept that customer satisfaction is the main goal.
Key part of the general corporate strategy
[

edit

]
This page needs additional citations for verification.
Please help improve this page by adding reliable references. Unsourced material may be challenged and removed.
A marketing strategy is most effective when it is an integral component of corporate strategy, defining how the organization will successfully engage customers, prospects, and competitors in the market arena. Strategic management|corporate strategies, corporate missions, and corporate goals. As the customer constitutes the source of a company's revenue, marketing strategy is closely linked with sales. A key component of marketing strategy is often to keep marketing in line with a company's overarching mission statement [9] .
Basic theory: 1) Target Audience 2) Proposition/Key Element 3) Implementation
Sectorial tactics and actions
[

edit

]
A marketing strategy can serve as the foundation of a marketing plan. A marketing plan contains a set of specific actions required to successfully implement a marketing strategy. For example: "Use a low cost product to attract consumers. Once our organization, via our low cost product, has established a relationship with consumers, our organization will sell additional, higher-margin products and services that enhance the consumer's interaction with the low-cost product or service."
A strategy consists of a well thought out series of tactics to make a marketing plan more effective. Marketing strategies serve as the fundamental underpinning of marketing plans designed to fill market needs and reach marketing objectives [10] . Plans and objectives are generally tested for measurable results.
A marketing strategy often integrates an organization's marketing goals, policies, and action sequences (tactics) into a cohesive whole. Similarly, the various strands of the strategy , which might include advertising, channel (marketing)|channel marketing, internet marketing, promotion (marketing)|promotion and public relations can be orchestrated. Many companies cascade a strategy throughout an organization, by creating strategy tactics that then become strategy goals for the next level or group. Each one group is expected to take that strategy goal and develop a set of tactics to achieve that goal. This is why it is important to make each strategy goal measurable.
Marketing strategies are dynamic and interactive. They are partially planned and partially unplanned. See strategy dynamics.
Types of strategies
[

edit

]
Marketing strategies may differ depending on the unique situation of the individual business. However there are a number of ways of categorizing some generic strategies. A brief description of the most common categorizing schemes is presented below:
Strategies based on market dominance – In this scheme, firms are classified based on their market share or dominance of an industry. Typically there are three types of market dominance strategies:
Porter generic strategies – strategy on the dimensions of strategic scope and strategic strength. Strategic scope refers to the market penetration while strategic strength refers to the firm's sustainable competitive advantage.

Product differentiation
Market segmentation

Innovation strategies – This deals with the firm's rate of the new product development and business model innovation. It asks whether the company is on the cutting edge of technology and business innovation. There are three types:

Pioneers
Close followers
Late followers

Growth strategies – In this scheme we ask the question, "How should the firm grow?". There are a number of different ways of answering that question, but the most common gives four answers:

Horizontal integration
Vertical integration
Diversification
Intensification
A more detailed scheme uses the categories:

Prospector
Analyzer
Defender
Reactor
Marketing warfare strategies – This scheme draws parallels between marketing strategies and military strategies.
Strategic models
[

edit

]
Marketing participants often employ strategic models and tools to analyze marketing decisions. When beginning a strategic analysis, the 3C's|3Cs can be employed to get a broad understanding of the strategic environment. An Ansoff Matrix is also often used to convey an organization's strategic positioning of their marketing mix. The 4P's|4Ps can then be utilized to form a marketing plan to pursue a defined strategy.
Marketing in Practice
The Consumer-Centric Business
There are a many companies especially those in the Consumer Package Goods (CPG) market that adopt the theory of running their business centered around Consumer, Shopper & Retailer needs. Their Marketing departments spend quality time looking for "Growth Opportunities" in their categories by identifying relevant insights (both mindsets and behaviors) on their target Consumers, Shoppers and retail partners. These Growth Opportunities emerge from changes in market trends, segment dynamics changing and also internal brand or operational business challenges.The Marketing team can then prioritize these Growth Opportunities and begin to develop strategies to exploit the opportunities that could include new or adapted products, services as well as changes to the 7Ps.
Real-life marketing primarily revolves around the application of a great deal of common-sense; dealing with a limited number of factors, in an environment of imperfect information and limited resources complicated by uncertainty and tight timescales. Use of classical marketing techniques, in these circumstances, is inevitably partial and uneven.
Thus, for example, many new products will emerge from irrational processes and the rational development process may be used (if at all) to screen out the worst non-runners. The design of the advertising, and the packaging, will be the output of the creative minds employed; which management will then screen, often by 'gut-reaction', to ensure that it is reasonable.
For most of their time, marketing managers use intuition and experience to analyze and handle the complex, and unique, situations being faced; without easy reference to theory. This will often be 'flying by the seat of the pants', or 'gut-reaction'; where the overall strategy, coupled with the knowledge of the customer which has been absorbed almost by a process of osmosis, will determine the quality of the marketing employed. This, almost instinctive management, is what is sometimes called 'coarse marketing'; to distinguish it from the refined, aesthetically pleasing, form favored by the theorists.
References
[

edit

]
↑

Abell, "Defining the Business: The Starting Point of Strategic Planning"

↑

"The Marketing Imagination"

↑

J. B. Quinn, "Strategies for Change: Logical Incrementalism" (Richard D. Irwin, 1980)

↑

Quick MBA Marketing plan based on consumer and competitor analyses

↑

Marketing plan basics Table of marketing targets, actions, means and results

↑

UK govt businesslink marketing strategy guide .

↑

Marketing strategy Australian administration small business guide .

↑

Baker, Michael (2008), The Strategic Marketing Plan Audit, Cambridge Strategy Publications, p. 3

 

↑

Baker, Michael (2008), The Strategic Marketing Plan Audit, Cambridge Strategy Publications, p. 27

 

↑

Marketing basics Marketing strategy based on market needs, targets and goals .
«
Business Strategy
The Art, Science, and Craft of Decision-Making
Marketing Plans
»
Business Plans
Retrieved from " https://en.wikibooks.org/w/index.php?title=Business_Strategy/Marketing_Plans_and_Strategies&oldid=3392278 "
This page was last edited on 23 March 2018, at 15:32.
Text is available under the Creative Commons Attribution-ShareAlike License. ; additional terms may apply. By using this site, you agree to the Terms of Use and Privacy Policy.
Privacy policy
About Wikibooks
Disclaimers
Developers
Cookie statement
Mobile view
2018-09-08