Skip to navigation
Skip to content
The Joy of Collage
Class Includes Lifetime Access, Instructor Feedback, Online Community, Over 90 Minutes of Video & More!

6 Lessons –
$85
Explore new ways to create fresh collages with a focus on building a story and surface. In this six-lesson class Lynn Whipple shares some of her techniques for creating a unifying look for a collage that incorporates drawing, painting, smudging, stamping and a little poetic thing that she likes to call dot dot dot.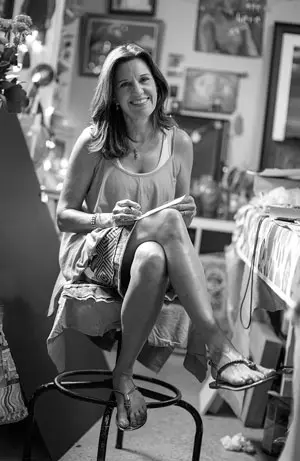 Class Description
I would be honored to share with you all of my favorite collage techniques as well as a handful of time-tested special tricks for making a great finished work of art. My greatest hope is that you will have fun and enjoy the process.
We will explore great ways to create fresh collages with a focus on building a story and surface. I will show you how to age your collage for a unifying look and we will incorporate drawing, painting, smudging, stamping and a little poetic thing I like to call … dot dot dot.
My overall philosophy is one of freedom, play, exploration and most of all FUN!!!!!! This class is all about YOU, and using your voice to make the things that make your heart sing!
One of my favorite things in my in-person workshops is the show-and-tell and positive feedback session at the end of each class. I love hearing what each artist has to say about what they learned and how their pieces developed! Happy accidents and revelations are the best! I am so glad we will be able to learn from each other this way in this online format.
---
Class Itinerary
Lesson 1: Glue & Trust
My "go to" gluing technique. This "wet" way of putting down our papers is what I use every day. This is where we play fast and loose with your found images and papers! Let Â'em fly!
Lesson 2: Aging & Editing with Paint
We will take acrylic paint and water it down to make a wash and quickly cover your page, then wipe it off, leaving just the amount that feels right to you! It will shift the color slightly and give it beautiful antique feeling. Next, we will cover up some of our image and collage with acrylic paint. We can totally create new shapes and play with composition hereÂ…..this is where Ninnies were born!!
Lesson 3: Smudging & Words
My favorite thing is to use a #3 pencil and go over the great layers that may now be covered with paint, an amazing, yet subtle thing happens and you start to move things forward and backwards. Then we will chose a few choice words that are a great graphic design element as well as a storytelling tool.
Lesson 4: Dot Dot Dot
OH YEAH!! now to the dot dot dot tool!! It is a simple sewing wheel used in marking patterns, when rolled in paint, makes a lovely poetic line that really gives a detail that will pull your viewer in.
Lesson 5: Begin Second Collage Painting
We'll begin a second collage piece using the same techniques but taking it in a totally different direction.
Lesson 6: The Finish!
We'll finish up our second collage and spend a few moments talking about finishing your work so it is ready to hang. Sometimes something as simple as detail to the edges of a piece will give it a framed feeling that looks great!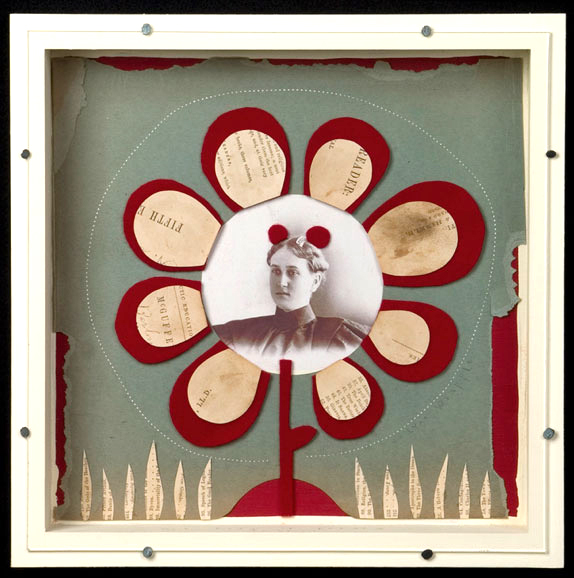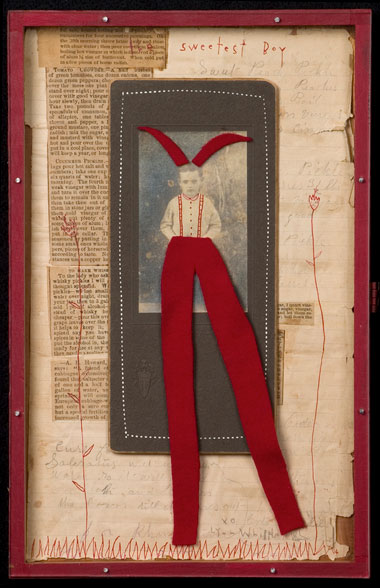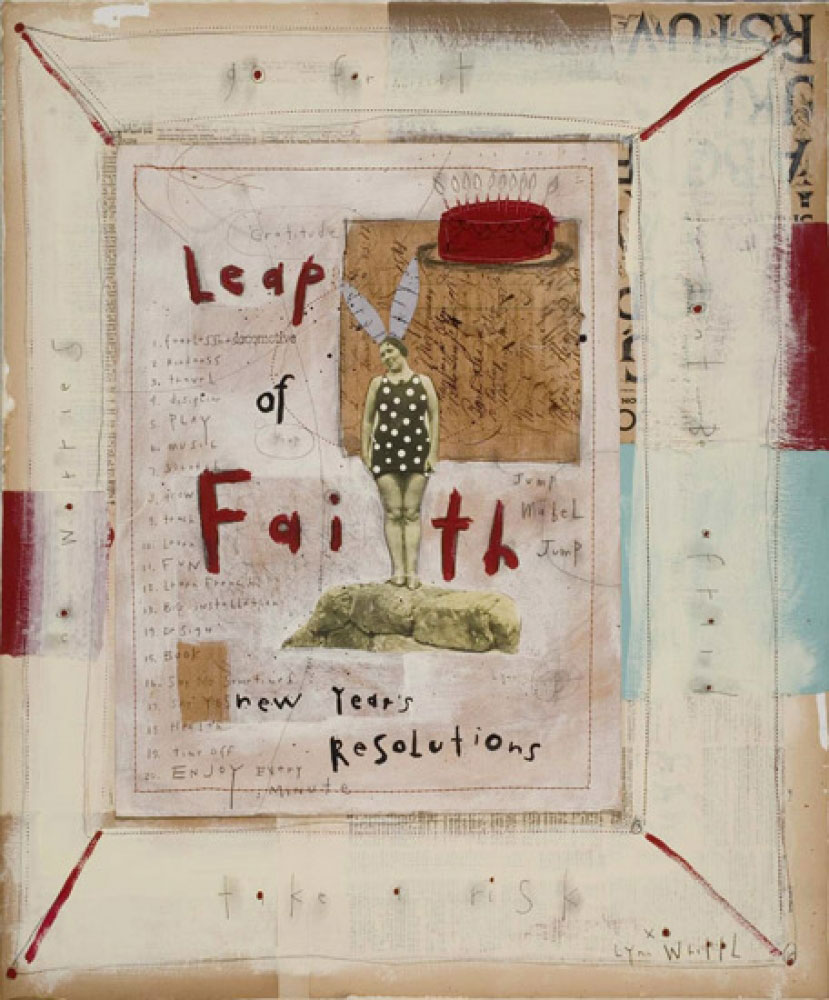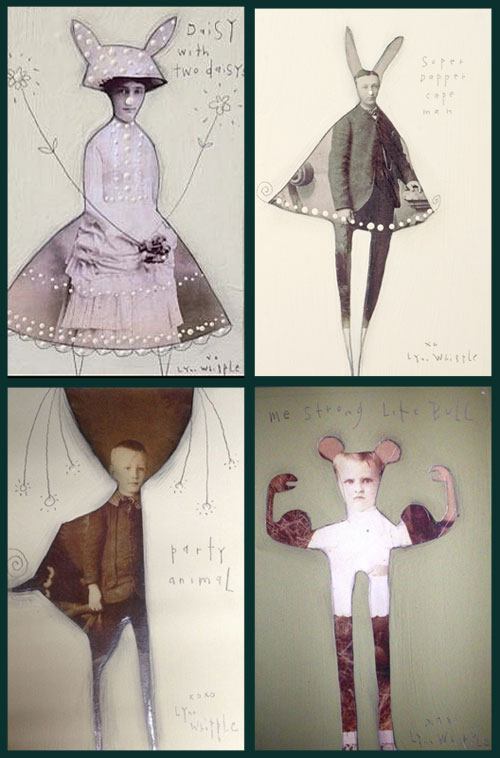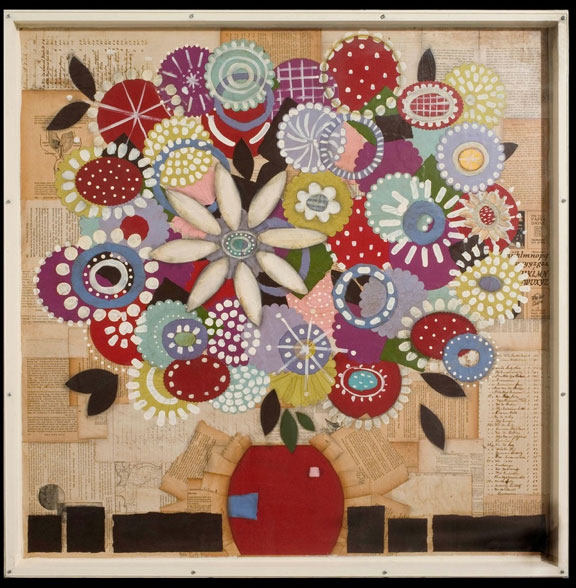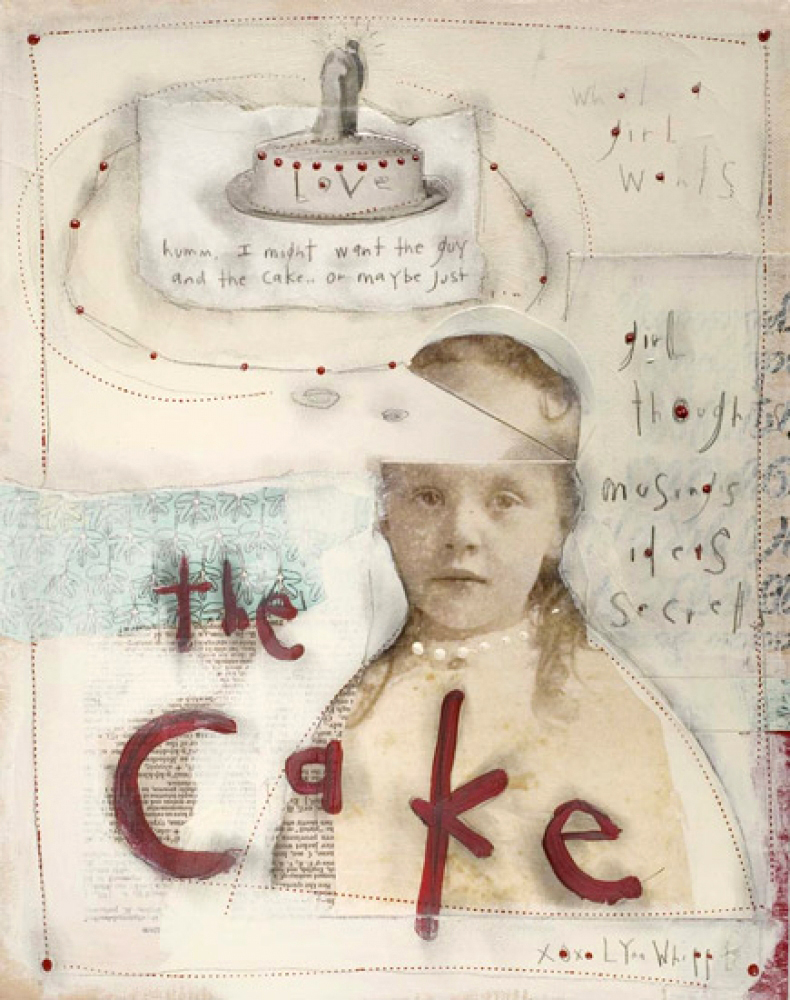 Supplies
Two substrates to paint on (either a canvas, a canvas board, or a wood panel or box), about 11″x14″ or larger
One quart of white- or cream-colored, flat house paint, any kind (from the hardware store).
Raw Umber acrylic paint; other colors of your choice. (Lynn loves Cadmium Red Deep Hue for her red… Liquitex Basics acrylic Paint work well and are affordable .)
Liquitex Gloss Medium
#3 or #4 pencil
Collage fodder. A selection of old papers, new papers, patterned and solid colors. You should also have old family or found photos printed in color on heavy paper to use as a focal point (Lynn recommends  80# or card stock) and 8.5″x11″ colored  card stock works well for the flower piece (several different colors).
Plastic scraper (from the hardware store… even an old credit card will work)
Serrated sewing tracing wheel for "dot dot dot"
Several paintbrushes, range of sizes
Set of alphabet stamps
White rag
Container for water
Lynn Whipple
Lynn Whipple writes, "I am deeply grateful to live my life as an artist. Play and discovery are my dearest and most constant companions. There are a zillion tiny challenges in each art making experience, and so often I find, just as many small, sweet victories. Without a doubt, living creatively is the most enjoyable and satisfying game I know."
Lynn shares a warehouse studio with her husband, John Whipple, in Winter Park, Florida. Lynn's work includes found-object mixed-media assemblages; found images altered with a combination of drawing, painting, sewing and more; and her well-known Ninny Boxes, collages combined with found objects, and assembled within a box format. Her unique pieces have a playful, quirky, and often absurd, charm.
Lynn explains: "I allow myself to play and let my pieces reveal themselves to me…I have been fascinated by old books, history, and odd bits of memorabilia. I find the things that interest me the most are slightly absurd…My hope is to create something real and somehow poetic but not commonplace. My goal is to keep communicating in my language."
Lynn's work has been exhibited extensively throughout the United States and her new book,  Expressive Flower Painting , was published July 2017. Visit Lynn's website at www.lynnwhipple.com.
Nuts & Bolts
This class is now available as a self-study class.
Immediately upon class signup, you will receive access to the class videos and corresponding materials.
A private Facebook group will be available for you to (optionally) share your artwork and enjoy and learn from the artwork of others. You may also email your teacher directly with questions or feedback.
You will have indefinite access to this class.
You might also like:

"Lynn, you are the BEST!! You made it a fun, creative and supportive learning environment! All the students were so talented too!! Thanks for sharing your joy!"

— Jean R.

"I just wanted to say a great big THANK YOU to Lynn Whipple and my classmates for making this such a FUN class!"

— Jill K.

Use code WINTERCLASS for 20% off kids classes!


Winter Session starts November 5th! Use Code WINTERCLASS for 20% Kid's Classes until Oct 31st


FALL CLASSES & Drop IN

Register or Buy A Pass
Explore REGISTERED and DROP IN Classes for kids. Sign up or buy a pass today!
Make a project from our in store KITS for OPEN STUDIO or take one home.
We carry a beautiful collection of books at our brick and mortar shop.